If you've ever walked into someone's home with a loved one hanging upside down on a table, you've experienced inversion therapy. As a form of self-preservation, everyone wants to stay healthy for as long as possible. Old age may set in, but there are many ways to keep up with your health without drugs or medications.
An inversion table is simply a platform that has secure locks for your ankles. Strap yourself into the ankle locks, and you can move the table to almost any angle. Hang completely upside down if you prefer. Knowing how often to use an inversion table is critical. Learn more about this tool so that you're always safe and happily stretched out.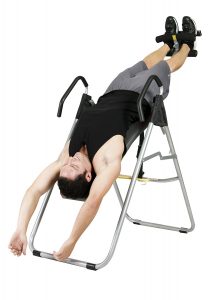 Starting Out Slow
When you're new to inversion therapy, your spine needs a little bit of conditioning. Ideally, start out in a horizontal position. You're laying down in a normal position with this starting point. Invert yourself to no more than 15 degrees for about 30 seconds. Perform this inversion for up to 10 times each day. Because the inversion angle is is very small, your body can take more decompression on a regular basis. The spinal discs receive a minor stretching that only improves their circulation over time.
Daily Frequency
When you first begin to invert, your spine isn't used to the sensation. The goal is to ultimately stretch out the discs and joints so that they remain that way even during normal walking and standing. Planning on inverting at least once a day means that your angle shouldn't be too extreme. Gravity will still have its positive effects on your spine with just a small angle. If you feel any discomfort, reduce your frequency to several times a week. Your body will acclimate to the process at a slower pace.
Multiple Sessions Each Day
As you gain a comfort level with your inversion table, it may become a helpful tool several times a day. Many people benefit from inversion in the morning and evening. After a long night's rest, your joints may be fixed in place. Stretching them out in the morning forces nutrient-rich fluids to the discs. Walking around during the day contributes to disc compression, which leads to back pain at times. Invert in the evening so that you can go to bed with a relaxed back.
Major Benefits
Stretching out your spine is the main benefit of inversion therapy. It's constantly under pressure from gravity and your weight. Compressed discs and joints don't receive the nutrients that they require for optimal functioning so they tend to decline. Allowing the spine to decompress gives the lymphatic system a chance to take over. This fluid offers nutrients that become part of the spine's strength. Your cardiovascular system doesn't directly support the spine, which is why lymph fluid must be allowed to flow to the tissues for nourishment.
Timing it Right
Morning and evening inversion times may not be helpful in your situation. Timing your inversion therapy is truly a personal decision. Consider inversion after high-impact sports, such as running. Gravity and your movements place a lot of pressure on your spinal discs. Stretching out the spine after a lot of exercise is a great way to avoid any injuries or chronic pains. Be careful about your ankles, however. Inversion tables require a tight grasp on the ankles so be sure that they're strong after any run.
Considering Medical Issues
For most people, inversion therapy is entirely safe and effective. It merely places you in a different position for fluid movement and pain relief. If you have eye ailments or cardiovascular issues, however, speak to your doctor before trying inversion therapy. Glaucoma patients might experience pain with more blood flowing to the head. Your blood pressure changes during inversion therapy so heart-disease patients should be careful with their choice of decompression pathways.
Frequency Importance
In the beginning stages, using your inversion table on a regular basis is important for a decompressed spine. The discs and joints find a "new normal" with their decompressed positions over time. However, they will settle into a compressed state if you stop inversion therapy altogether. Regular users eventually fall into a habit of inverting between one and three times a week. This frequency maintains the decompressed discs without too much strain on the surrounding muscles. Inverting for less time means that your discs will compress between each session. Maintain a once-a-week frequency at the very least.Depending on your age and medical issues, ask a loved one to spot you during the first few uses of the inversion table. Getting comfortable with the tool is part of the learning curve. Once you understand what works for your body, you can move ahead and deal with the process on an independent level. Inversion tables are safe tools as long as you respect the science behind the concept.