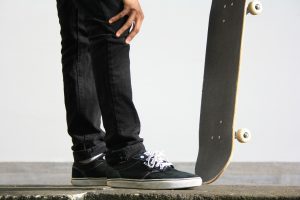 The best longboard shoes : One thing that separates longboarders from other athletic experiences is that equipment can make a huge difference in your experience. But the thriftiness of the culture puts the best longboard shoes on a different set of criteria. Skateboarding is about not only the best equipment, but the smartest, budget-friendly equipment. The expensive shoe might be great for a few weeks before it gets torn up while a cheaper shoe may perform slightly below that expensive shoe but do so for months or years. 
Read More : Best Longboards Reviews 2018
In general, the best longboard shoes are going to have exceptional grip and allow for the foot to breath well. This is because the longboarder needs to feel the board and on their longer runs will want something that keeps the foot cool. Durability is also important, especially in the soles where the feel for the board is facilitated. The important thing to remember when looking for the best longboarder shoe is not that there will be a decisive best shoe, but knowing what to look for in a good shoe and our recommendations can guide you to the best shoe for you.


Comparison Table of 5 Best Longboard Shoes
| Name | Dimensions | Weight | Price |
| --- | --- | --- | --- |
| DC Men's Court Graffik | 8 x 4 x 1.5 inches | 2.5 pounds | |
| Vans Authentic | 10 x 5.5 x 5.8 inches | 3 pounds | |
| Osiris Men's NYC 83 | 15 x 13 x 15 inches | 3 pounds | |
| Etnies Men's Jameson 2 Eco | 13 x 9 x 5 inches | 3 pounds | |
| Etnies Men's Marana Vulc | 14 x 9 x 5 inches | 3 pounds | |
Top 5 Best Longboard Shoes Review of 2018
The DC Men's Court Graffik Skate Shoe is the foundational shoe for DC, who have been in the business of making skateboaring shoes for over thirty years. Much like other longboarding shoes, the Court Graffik is simple in design – a low top shoe with a lace up vamp with its cloth or leather sided shoes very well ventilated. Like many skateboarding shoes, their reasonable price, simplicity and comfort have turned the Court Graffik into a fashionable shoe and the variety of materials and colors available should have the buyer beware that not every Court Graffik is the same. 
Ignoring their suede shoes, which are too delicate and expensive to justify using on any form of skateboarding, the Court Graffik do a great job with grip of the board tape and are not only easy on the wearer's feet, but do not tear up the tape. The durability of these shoes is also impressive as their stitching and soles hold up through years of use.
There are a couple of factors though which can be concerning with these shoes. The first is that as they have become fashionable, there are a wide number of style choices that can affect the price as well as the performance. As well, some of the different materials fit feet differently even if DC says they are sized the same. A final problem is that the logo overlay on the counter feels like it affects flexibility in the heel, which can cause problems in steering.
One of the first makes of skateboarding shoes and a vanguard of skateboarding, Vans' Authentic is the shoe the same shoe that got everything started. The shoe is a classic, but that does not mean the Authentic is behind the times. Vans has not seen need to improve on what was meant to be a basic, entry-level skateboarding shoe. 
What puts Vans Authentic among the best longboard shoes stem from that simplicity. This shoe does not try to be incredible. The Authentic strives to be functional which it does well. There is nothing this shoe does excessively well but for that matter, nor poorly. It is the middle of the road among long boarding shoes and because of its low price, the ideal starter shoe for longboarding or any other form of skateboarding. Like many other skateboarding shoes, it comes in a variety of styles which makes it able to fit your personal style without much trouble.
But that simplicity comes with a couple of drawbacks. Beyond a shoe that adds nothing to your performance, the Authentic, like every Vans shoe, tends to feel heavy and clunky, especially for more experienced skaters. As well the durability leaves a little to be desired because a way to save manufacturing costs, Vans has opted to glue together many components. While the durability of the metal eyelets is something that is easy to appreciate, they tend to feel heavy, especially during longer sessions. Finally, because they are canvas, they tend to shrink once they get wet, whether from cleaning, weather or sweating, which can make their fit a difficult proposition.
Something rare in longboarding shoes, the Osiris NYC 83 Skate Shoe is a high top shoe, offering ankle support and better control over steering. Osiris was also the first skateboarding shoe manufacturer to feature professionally designed shoes. It goes without saying that Osiris offers a unique experience for the longboarder. 
Along with being high tops, the next thing that stands out with the NYC 83 is its distinct style, something that Osiris has made part of its brand. Their shoes are rarely basic. Osiris tends to use flashier fabrics in its designs, have laces of a contrasting color and you see the Osiris name on the top of the tongue. Like other Osiris shoes, the NYC 83 is made to be seen, almost belying their design for skating professionals. Atypical for longboarding shoes, the NYC 83 is much more padded than other skateboarding shoes, making them a very comfortable wear.
But a lot of these unique features make the Osiris NYC 83 something of an acquired taste. Many longboarders would prefer lighter, less showy shoes. Plus compared to many other shoes, these shoes tend to run more narrow than many other skateboarding shoes, which can lead to an uncomfortable fit along with less grip and control of the board. As well, these shoes are on the pricier side. This in and of itself would not be an issue if the Osiris did not struggle with durability issues. Many users had issues with them coming apart after only a few uses. Even worse is that the durability is less from wear and more from what appears to be shoddy workmanship. But even with these drawbacks, Osiris has its customers that swear by them and the ankle support and style do make them worthy of notice.
Similar to the Vans Authentic in both price and style, the etnies Jameson 2 Eco has features that go beyond its performance as a shoe to standout. The Jameson 2 Eco is a completely vegan shoe meaning that no animal products were used in its manufacture. Many shoes will have leather or animal based glues, but the Jameson 2 Eco uses only fabric and adhesives derived from plants. As well, etnies corporate policy is that they will plant a tree for every pair of shoes sold, continuing their commitment in cruelity-free, sustainble-friendly products. 
But the Jameson 2 Eco is not just environmentally and vegan friendly, it is also a great skate shoe for the longboarder. Because of it being a fabric shoe, the Jameson 2 is a very light shoe that can take a beating from constant use and hold up for a very long time. The soles are made from recycled plastic as opposed to rubber or synthetic rubber like in many of the best longboard shoes, but this choice feeds into its durability and its sustainability.
The drawbacks to the Jameson 2 stem in part from its use of recycled materials as there were issues with consistency of the sole, but even if the sole did wear quickly for a while, the grip held up if not improved and the sole held up better after a little while. Another problem is that by being made of hemp, the fabric does not shrink much over time and would lead to a loose fit and blistering where the shoe was looser. Finally, some wearers reported feeling that the ankle on these shoes was a bit too low and lead to a loss of feeling in control of their board in sharper turns.
The etnies Marana Vulc Skateboard Shoe is not the ecological warrior that the Jameson 2 Eco is, but is still a smartly designed shoe that gives a bit more padding and protection than many lightweight longboarding shoes provide. This does create a show that is a little heavier than the Vans Authentic or the Jameson 2 Eco, but not so much so that it detracts from what the longboarder would want in a shoe. 
Where the Marana Vulc really stands out is that in spite of being suede, the durability of these shoes was rather impressive. The rubber toe cap protects the shoe where it meets the sole and the suede body of this shoe will hold up to many falls with only scuffs to show. As well, the vulcanized rubber sole is especially tacky and will grip the board well no matter the conditions.
What is noticeable about the Marana Vulc is that it looks like a narrow shoe, in part because it does fit narrower than the typical shoe. Along with that issue, with the sole being of a more atypical material in modern shoes, many will find that it takes a little while to get used to the way the rubber grips their board. But many will find once they are used to it that it allows for a better feel of their board. The final concern is that of many skate shoes where the sole comes unglued rather easily and this is compounded by the top cap cracking and coming loose in places.
Final Verdict
Depending on whether you prefer performance, durability, style, price or environmental friendliness, there is a longboard shoe out there for you. If you have a chance to talk to other longboarders, find out their opinions on their equipment. Also, if you have a skate shop nearby, try to get in to try on different shoes just to get used to fit and feel, especially if you plan on purchasing online. The best longboard shoes take some work and understanding of your needs to find.