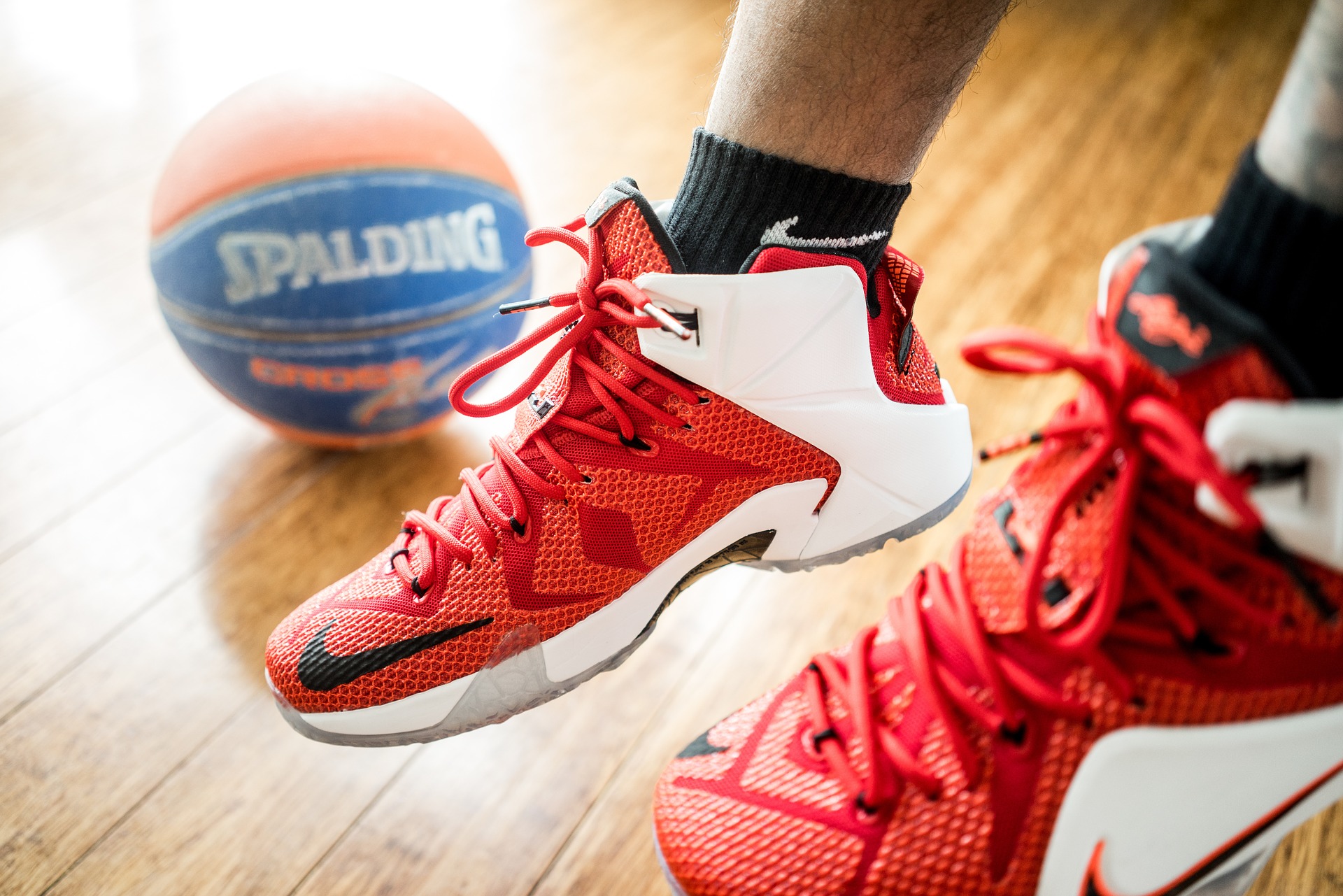 It can be hard to find the right basketball shoes for the outdoors. Most basketball shoes are designed for indoor use and will wear out very quickly playing on the hard concrete. Fortunately, if you are looking for a great outdoor basketball shoe you have come to the right place.
This review of outdoor basketball shoes will give you an effective guide to 10 different basketball shoes that can improve your performance on the court and take your game to the next level. These 10 shoes will help you convert on those highlight plays that you have been dreaming about.
Related Post: Best Longboard Shoes Review
Comparison Table for Top 10 Outdoor Basketball Shoes
Name
Material
Quality
Price
Under Armour Men's Ua ClutchFit Drive Ii (Our Choice)
Synthetic
A+
adidas Performance Crazy Explosive
(Also good)
Textile and Synthetic
A+
Under Armour Men's Drive 4
(Great Value)
Textile and Synthetic
A+
adidas Performance D Rose 6 Boost
Textile and Synthetic
A
Nike Men's Kevin Durant KD 8 VII "Blackout"
Mesh
A-
NIKE Men's Air Max Infuriate Low
Synthetic and Mesh
A-
Nike Men's Lebron XIII
Synthetic
A
Nike Mens KD Trey 5 IV
Nylon
A
NIKE Men's Hyperdunk 2017 TB
Mesh
A-
NIKE Kobe Mamba Instinct
Synthetic
B
Recommended 10 Best Outdoor Basketball Shoes Review
1. Under Armour Men's Ua ClutchFit Drive Ii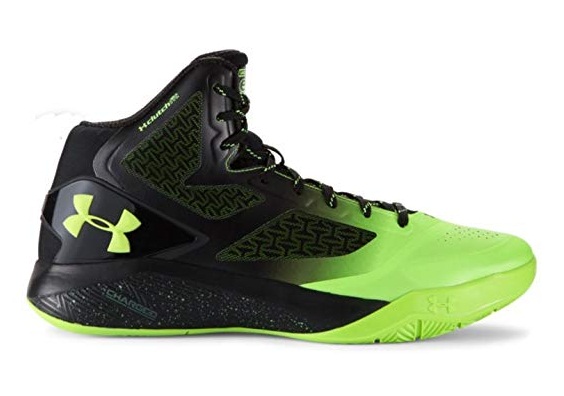 If you are looking for a good performance outdoor basketball shoe then the Under Armour Clutch Fit will provide you with a little bit of everything. For starters, the traction is superior, allowing you to get to any spot on the court without slipping. Additionally, the shoe contains your foot well ensuring that you are not sliding or twisting an ankle on hard cuts.
The cushioning used in this shoe is different than the one used in previous Under Armour shoes, they used Charged foam technology, which is more firm than materials used previously. Although it is not quite as airy the new cushioning improves lateral quickness and helps you achieve an explosive first step.
Some of the negative comments regarding this shoe stemmed from its less appealing appearance than previous Under Armour shoes. The cushioning in the shoe is a little bit stiff, and it can sometimes be hard to have flexibility which is another downside to the shoe.
2. Adidas Performance Men's Crazy Explosive Basketball Shoe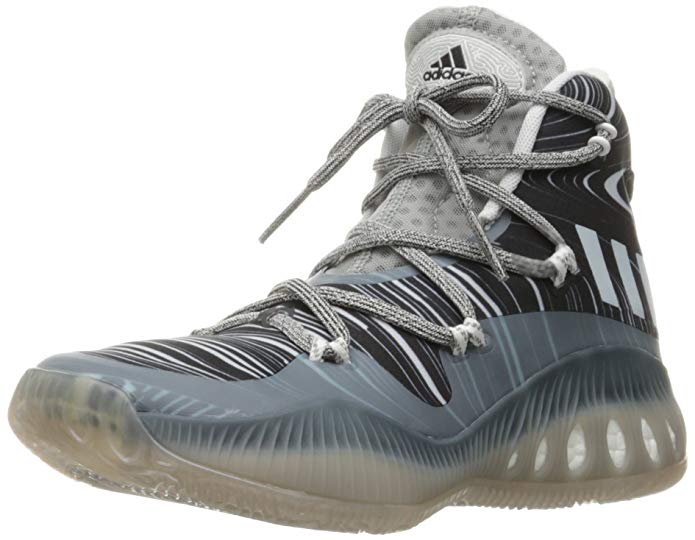 One of the best performance outdoor basketball shoes, the Adidas Crazy Explosive is an incredible shoe for outdoor play. We will start off with the traction which is compatible with nearly every surface, especially great for outdoor play.
In addition, this shoe fits well on most people and can be used for both narrow and wide feet. Add to that the incredible cushioning which adheres to your foot whenever you run, jump, cut or make any other move and the Adidas Crazy Explosive shoes are some of the best shoes that you are going to find.
If you are looking for a shoe that has great support while not being constricting then this is your shoe, as the cushioning and high-quality materials protect you from injury while also allowing maximum flexibility.
3. Under Armour Men's Drive 4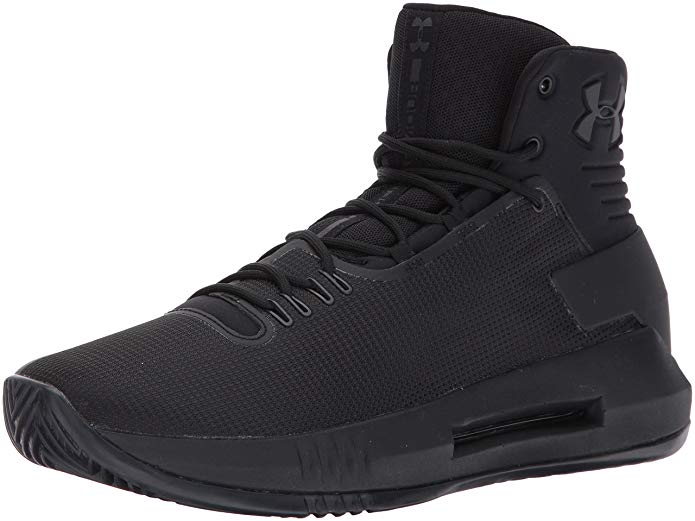 If you are looking for the most bang for your buck than the Under Armour Men's Drive 4 is a great option. This shoe is not the flashiest in terms of its features or appeal, but it gets the job done. The best thing that the shoe has going for it is its incredible traction on any surface. Whether it's the concrete or the hardwood you can reliably count on this shoe to make quick moves and prevent sliding.
With this shoe Under Armour brought back MicroG cushioning, which allows for both soft landings and explosive jumping. The forefoot is made of Phylon, which allows for incredible explosiveness and quick first steps.
One complaint about the shoe is that it can feel a little bit constraining or restricting, this is mostly due to the hefty ankle support which does not allow for much movement or flexibility.
4. Adidas Performance Men's D Rose 6 Boost Basketball Shoe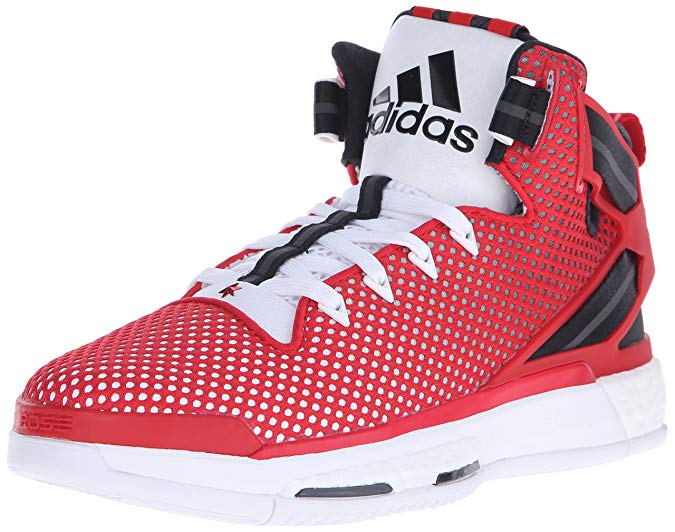 Just like Derrick Rose was himself, these shoes are designed for players who are constantly hustling, jumping, and attacking the rim. One of the best characteristics of this shoe is its comfort. The shoe is made of high-quality materials, with the inside sole of the shoe providing maximum comfort.
As was previously stated, these shoes are made from extremely high-quality materials which lends itself towards both greater durability and stability. The traction on these shoes lasts, making it a great choice for outdoor play. The designers of this shoe created it with StableFrame technology, which offers support to the midfoot and helps prevent injury. On top of that, the D Rose 6 Boost offers ankle support, making this shoe one of the best for preventing injuries.
If there is one disadvantage of this shoe it is that the design makes it more accommodating to larger and heavier players, and it is not the best fit for some guards.
5. Nike Men's Kevin Durant KD 8 VII "Blackout" Basketball Shoe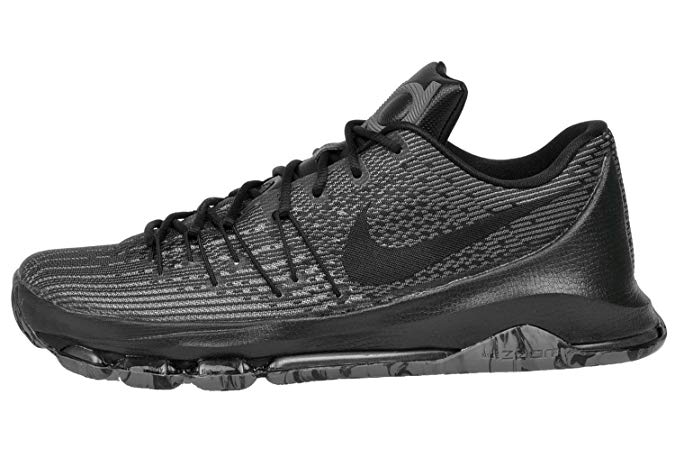 One of Kevin Durant's signature shoes, the KD 8 "Blackout" will help you make the same type of smooth moves that have made Kevin Durant one of the NBA's best players. The shoe thrives in part due to its FlyWeave support which allows players to make precise cuts and provide comfort even on hard outdoor courts.
Due to the lightweight materials and cushioning used in the KD 8, it is designed to improve your leaping ability on the court. In addition, the shoe is relatively accommodating to all foot sizes meaning that all people should fit comfortably into the shoe. The traction on the KD 8 "Blackout" is excellent, meaning that there is little to no slippage that you experience while playing.
This shoe has very few flaws, however, that comes at a price, as the shoe retails for over $150, which is expensive for an outdoor basketball shoe.
6. Nike Men's Air Max Infuriate Low Basketball Shoe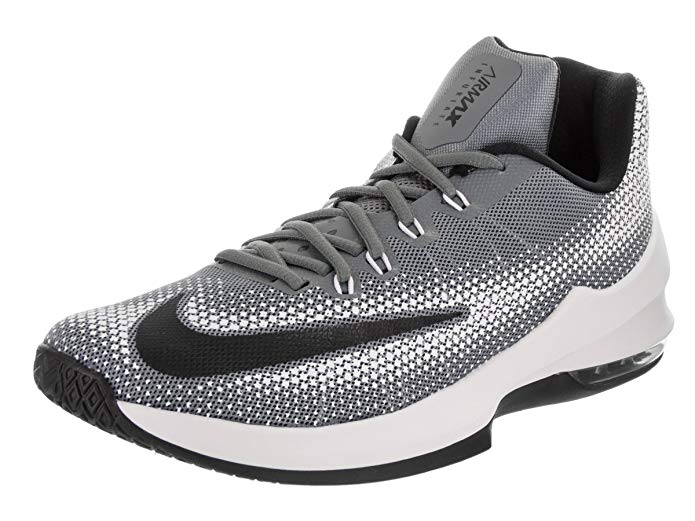 This shoe is in no way flashy or attractive, but it most certainly gets the job done. The Air Max Infuriate is a great shoe for outdoor play mainly due to its outstanding traction. The shoe can be used on just about any surface and be effective.
Another area where the Nike Max Infuriate excels is in terms of its fit. It can fit a variety of different foot sizes, and work well with each. Despite the fact that these shoes do not have high ankle support they protect your feet and ankles relatively well due to the materials used around the heel and lower ankle. These features allow you to push off and gain a quick first step.
One of the downsides to this shoe is that the cushioning on the inside of the shoe is not especially comfortable or flexible compared to other shoes. It is especially challenging for heavier players to play in these shoes for a long period of time.
7. Nike Men's Lebron XIII Basketball Shoe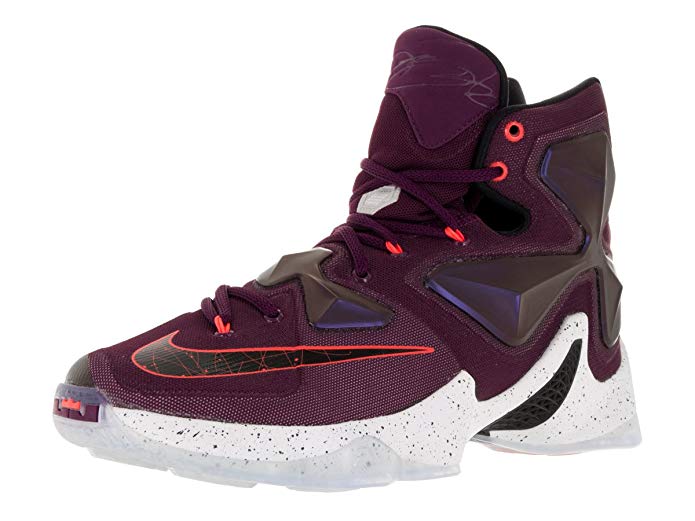 One of Lebron James signature shoes the Lebron XIII is perfect for outdoor play. The shoe helps you make the same explosive jumps due to its excellent cushioning, support, and traction for the outdoors.
The main goal that this shoe tries to complete is providing both support and comfort to all players. This shoe has a very thick sole, combined with memory foam ankle support. This allows players to make precise movements on the court, while not compromising comfort or flexibility. Pair this with great traction and you have the makings of an excellent basketball shoe.
The primary complaints about this shoe stem from the fact that although the cushioning inside of the shoe provides great support, it can take a while to break in. Additionally, this shoe is relatively expensive for an outdoor basketball shoe.
8. Nike Men's KD Trey 5 IV Basketball Shoe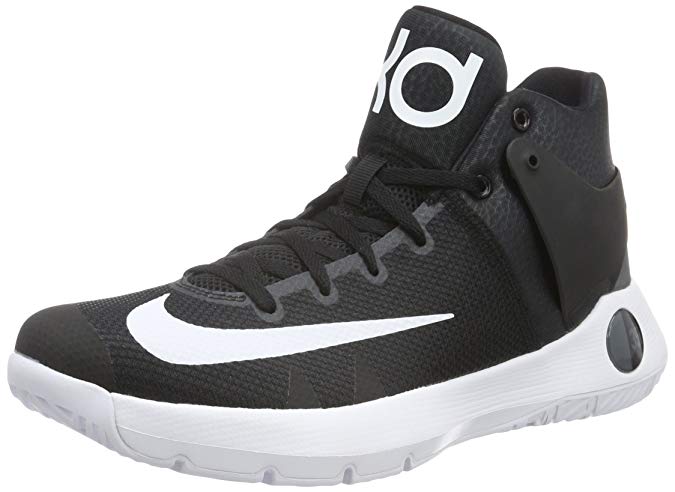 Similar to the KD 8 "Blackout" the Trey 5 is exceptionally comfortable and versatile. The first aspect that makes this shoe so incredible is its traction. Whether it be on hardwood or concrete the traction on these shoes remains solid and provides friction on nearly every surface.
Furthermore, the KD Trey 5 provides excellent support allowing you to make quick crossovers and cuts while also providing protection. It does this by utilizing Zoom technology, which allows players to make quicker and more efficient moves. The shoe is designed to adapt to your foot, meaning that they feel airy and breathable.
One potential downside to the shoe is that the cushiony material used inside can take some time to break into, and for some people, it feels uncomfortable.
9. Nike Men's Hyperdunk 2017 TB Basketball Shoe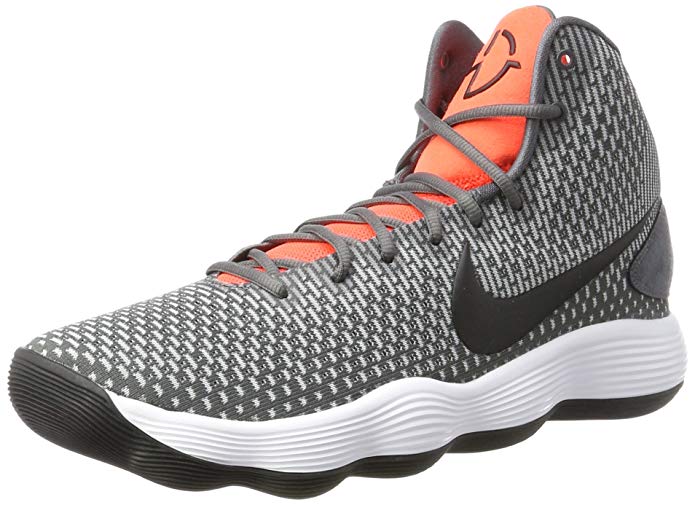 The Nike Men's Hyperdunk shoe is a sure bet to increase your vertical jump, due to how the shoe conforms to your heel and foot. Another positive attribute that the Hyperdunk provides its users is incredible traction, allowing all players to make quick crossovers and adhere to any playing surface, an aspect nearly unparalleled among other outdoor basketball shoes.
The Nike Hyperdunk has great support and cushioning on the inside of the shoe, providing your foot with proper protection, and allowing you to make crisper movements on the court. The shoe also fits a wide array of foot types, conforming to both wide and narrow feet.
One of the negatives associated with this shoe is the price, this shoe can retail for nearly $150 depending on where you buy it from, leaning towards the expensive end for an outdoor basketball shoe.
10. Nike Kobe Mamba Instinct Men's Basketball Shoe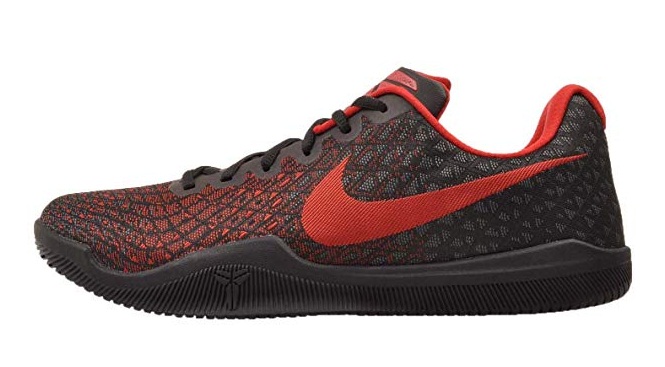 One of Kobe Bryant's shoe designs, the Mamba Instinct is great for outdoor basketball. One of the best attributes of this shoe is its lightweight material. This is ideal especially if your game is predicated on speed.
The soles of the shoe are made with rubber and can withstand a great deal of wear and tear outdoors while still maintaining their traction, a huge plus for outdoor play. The Mamba Instinct does not disappoint when it comes to cushioning, with Lunarlon padding that provides both support and comfort to your foot.
Some of the complaints regarding this shoe stem from the fact that there is minimal high ankle support. This could be a potential turn-off especially to those who have had previous ankle injuries. Another critic regarding this shoe is the lack of support for the middle of the foot. The shoe is easy to bend, so despite the added flexibility, it may turn away some people.
What Should I consider when purchasing an Outdoor Basketball Shoe?
If you are considering purchasing outdoor basketball shoes there are several factors that you must consider. These include fit, price, comfort, support, traction, and durability.
One of the first aspects to consider when searching for the right outdoor basketball shoe is how it fits your foot. Some shoes are designed to accommodate wide feet while others are better suited for narrow feet. Additionally, you want a shoe that gives you adequate space to move your foot, while also being snug enough to prevent your foot from wobbling.
Another important factor to consider when selecting the correct basketball shoe is how much you are willing to pay. Make sure that you consider the price that you want to spend on the shoe before making a decision.
Possibly the most important part of selecting the right shoe is purchasing a shoe that feels comfortable to you. Playing basketball outdoors, it is important to consider that you are playing on a hard surface, therefore make sure that your shoe has adequate padding and cushion for maximum comfort.
One critical aspect, especially for those who have had any past knee or ankle injuries is support. Many shoes offer high ankle support, which makes the chances of ankle injury lower.
Traction is crucial to being effective on the basketball court because it can either enhance or diminish your quickness, grip, and speed. Choosing a shoe that has good traction and does not wear down easily will enhance your footwork, defensive ability, and crossovers.
Lastly, an important factor in determining the right basketball shoe for you is maintenance. You don't want to buy a shoe that requires constant cleaning and maintenance, instead, you want a shoe that can withstand the wear and tear of the outdoors.
In conclusion, you have now seen 10 of the best outdoor basketball shoes that can enhance your performance and help you elevate your game to the next level. Now that you are equipped with this information you can make a smart decision regarding what basketball shoe is right for you. Choose the shoe that best fits your play style, and pay close attention to the details. If you keep in mind the aspects that you should consider when purchasing a shoe listed above then you are all but guaranteed to select one of the best outdoor basketball shoes that will vastly improve your game.