If you're looking for a great way to get a workout in without actually going outside, then one of the best ways to do it is with a recumbent exercise bike. These bikes help to provide you with a great workout similar to what you would get when you are riding a bike. However, you're going to like that it lets you be in a relaxed position so that you won't have a ton of stress on your back and other joints.
If you're looking to find a recumbent bike and you would love some of the better options that you are going to find, then this is going to be the review post for you. You'll find that this provides you with all of the information you are going to need in order to buy a great bike including the different things you should look for in a bike as well as some of the top product recommendations for products on the market today.
Comparison Table Of Best Recumbent Exercise Bikes
| Name | Resistance | Display | Weight capacity | Price |
| --- | --- | --- | --- | --- |
| Marcy ME 709 | 8 levels | Large console display | 300 lbs | |
| Exerpeutic 400XL Folding | 8 levels | LCD display | 300 lbs | |
| Exerpeutic 900XL Extended Cap. | 8 levels | LCD display | 300 lbs | |
| Schwinn 230 | 20 levels | 13 different display | 300 lbs | |
| Schwinn 270 | 25 levels | 13 different display | 300 lbs | |
| Nautilus R616 | 25 levels | 2 Blue Backlit LCD Displays | 300 lbs | |
| Ironman X-Class 410 | 32 levels | Dual LCD Display | 350 lbs | |
| Diamondback 510SR | 16 levels | LCD display | 300 lbs | |
| Sole R92 | - | 9" LCD display | - | |
| SOLE Light Commercial | 20 levels | 10.1'' TFT Display | 350 lbs | |
10 Best Recumbent Exercise Bike Reviews 2018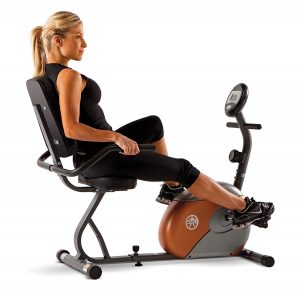 Click On The Image or Here To Check It on Amazon
Depending on what you are looking for when it comes to a recumbent exercise bike, this one might be the perfect option if you want one that has several different preset levels of resistance so that you can choose the tension that is going to be best for you. In addition to the tension levels, you're going to find that this is one of the most affordable options on the list and it comes with an incredibly easy to adjust knob that you simply need to tighten in order to get the different fitness and tension levels you want. The large console display on the front of the bike is perfect for those that care about fitness stats as they work out because it will display items such as your speed, distance, time and calories that you have burned during your workout.
The pedals on this exercise bike are counterbalanced with adjustable foot straps so that you can easily get a secure grip around your feet at all times. If you need to move the unit to a different area of a room or your house, you'll have no problem doing so with the built-in transport wheels included with your purchase. This product measures 55.5" x 25" x 37.5" and weighs just 66 pounds. Read more detailed Review..
If you're tight on space and you are hoping to find a bike that allows you to fit it into a smaller area, then this bike might be the one that interests you the most. While I will discuss all of the great features this bike offers later, it's important to not that slim and compact design that makes the whole unit measure just 19" x 46" x 33", making it perfect for any area of your home. In terms of the features, you will love the foldable features along with the quiet v-belt double-drive transmission system to deliver you some of the best results and features that you can find.
In addition, you're going to enjoy the precision-balanced flywheel to give you some of the best performance results that you are going to get.
You're also going to get an 8-level adjustable magnetic tension control system so that you can adjust the wheel to the tension that you want. The easy-to-lead LCD display helps to track all of your fitness data throughout the workout including distance, calories and speed. The design is semi-recumbent to that you can have easy access in and out of the chair along with enjoying the large seat cushion and backrest.
If you're looking for something comparable to the one that was talked about above but you want it to be just a little bit bigger, this is probably going to be the one that you want to go with/ This recumbent stationary bikes offers some of the more challenging cardiovascular workouts while also helping to minimize the stress on both your joints and your back so that you can focus on the workout and not the pain on your joints. It also comes with an eight level magnetic tension control system that allows you to customize the ride and increase your challenge over time.
Furthermore, the large and easy to read LCD screen is going to be great for those that care about their fitness data in the middle of their workout or at the end of the workout. You're going to see all of your fitness data including information about your distance, calories burned, time, speed and heart rate along with even more features. This particular product measures 22" x 34" x 54" and weighs just 63 pounds and will support up to a 300 pound weight limit.
When it comes to anything to do with cycling or bicycles, you know that Schwinn is one of the best brands and you know that you are always going to get a great product to meet all of your needs. This is why this exercise bike and the one review below it are two of the better choices despite having higher price tags than some of the other options on the list. This particular model is a great choice for those individuals that value their fitness data and want it displayed at all times throughout their workout. This bike has two LCD windows that allows you to look at up to 13 different feedbacks at one time.
With this bike, you'll also be able to use Schwinn Connect goal tracking so that you can export all of your data and see how each particular workout went for you. In addition, you'll get 22 different programs to choose from so finding the perfect workout is a breeze! With the 2 user settings and the goal tracking, you will have no problem staying motivated and challenged.
Last but not least, the 20 levels of resistance make it easy for you to get the desire resistance you want at any point in your workout.
If you want to get some of the best of the best and you really don't care all that much about how much it is going to cost you, then this might be one of the best rexcumbent exercxise bikes on this list that you are going to want to buy right away. Improving on a lot of the features of the bike that was reviewed above, this model is essentially a much better and updated version of the previously reviewed model. This also has a double LCD window system to monitor several different display feedbacks at the same time throughout your workout. In addition, you'll get the Schwinn Connect goal tracking software that allows you to export all of your fitness data into one place.
Improving on the previous model, this bike comes with 29 different fitness programs to choose from and it is capable of holding settings for four different users that might use the bike. All of those things combined with the fitness goal tracking will help to make sure that you stay on task and motivated at all times.
In addition to all of that, you're also going to enjoy the 25 different resistance levels that are aligned with the high speed, weighted flywheel to give you solid workouts that are smooth and quiet at all times.
Yet another great option when it comes to some of the higher end exercise bikes that you are going to find, this is something you are going to love to own if you care about getting one of the better workouts that you can find while also getting a great performing bike at the same time.
This is one of the best options because it comes with a backlit LCD display with two windows that display all of the fitness data you could possible need during your workouts. 
It also has Bluetooth connectivity and has a charging USB port so that you will never be without your technology when you go for a workout.
This particular recumbent bike also comes with 29 different programs for you to choose from as well as four different user profiles so that every single member of your family can have their own unique profile on the bike. The 25 different levels of resistance also help make it easy for you to find a perfect level that works for you. With so many options, you can easily switch the intensity of your workout to more intense in the middle and less intense at the beginning and end.
As you can probably tell, the bikes keep in getting more expensive which means that the features are starting to get better and better as we move on. This particular bike is one of the better choices because it has the largest range in accommodations for people of all heights and weights. This bike can be used by individuals up to 350 pounds in weight and the height ranges from 5'2" all the way to 6'4" so that i can accommodate just about anyone. There are 32 levels of magnetic tension so that you can find the perfect level for you and the 12 preset workout programs can help to make sure you get a workout that you want at all times.
Where this bike differs from a lot of the other options is in the comfort of the seat itself. It has an adjustable backrest to help reduce the lower back strain and stress.
Additionally, it gives you independent air chambers for maximum comfort. This bike is also compatible with plenty of fitness apps you use on a daily basis and even include an equipment mat to put it on as well.
This is another great option for anyone who really cares about the recumbent exercise bike they are going to buy and wants one that is going to last a really long time. This particular bike packs in a ton of awesome features such as 30 different workout programs that can provide you with any type of workout you want. Additionally, you can reach your target heart rate with ease because of the 16 different levels of resistance that can tailor perfectly to the workout you want. The LCD screen helps to provide you with feedback in real-time and the integrated speaker system included connectivity to your mp3 player. You'll also love a lot of other features it has to offer such as a foldout magazine rack, and adjustable cooling fan and a cup holder so you have convenience at all times.
Additionally, the seat base and back is sculpture and the adjustable console and armrest provide you with plenty of comfort that you'' love to have. Additionally, the smooth and quiet frictionless braking system helps ensure that you have a quiet experience at all times. Last but not least, you're going to get warranties of varying length for all parts on the bike so you don't have to worry about anything going wrong.
9. Sole R92 Recumbent Bike
If you want to find one of the best bikes on this entire review post and you would like to find a bike that is very comparable to what you are going to find at some of the nicer fitness gyms you go to, then this might be one of the best options for you on this entire list.
It comes with a ton of great features and it was even reviewed as one of the best buy in the price range.
It includes Bluetooth functionality so that you can easily transfer the workout data from the machine right onto your smart phone.
The smooth resistance on this bike is second to none and you're going to love to have the 9 inch LCD screen that makes it easy for you to see everything that is happening on the screen. Additionally, it uses easy to see graphics so that you can see what is happening on the screen at all times. With your purchase, you are going to get a three year warranty on parts and electronics as well as a one year warranty on labor.
Finally, we arrive at the most expensive bike on the list and what is easily going to be one of the best ones that you are going to find. Similar to the one that was talked about above, this is another great option for anyone that wants to try and get a bike that is very similar to what they might use in a gym. This bike boasts a very impressive 20 different resistance levels so that you can find the perfect resistance level for your workout and you can change it with ease in the middle of your workout as well.
The seat on this particular bike is one of the most comfortable as well because it uses an ergonomic seat cushion on the lower back that helps to prevent any joint or muscle discomfort that you might experience on some of the other bikes.
Last but not least, you're going to love the 10" LCD display screen that shows you all of the different fitness stats that you need during your workout. As an added bonus, you'll be able to choose between 6 pre-set workout, two different uses and two different heart rate control programs for the best results possible.
Why Recumbent Bike?
There are a lot of different reasons for why you can choose a recumbent bike and a lot of them are going to be covered in the next section when we talk about the benefits of the recumbent bike. In short, the recumbent bike is going to be the best choice for anybody that loves the way a workout feels on a bike but, for whatever reason, can't do it on a regular bike or exercise bike. Since the recumbent bike puts you into a more relaxed position for maximum comfort, it's the perfect choice for anyone looking to get that great workout without the annoying bike seats that so many people complain about.
The reason recumbent bikes are as popular as they are is because they offer the same benefits that you are going to find with a regular bike but it allows you be seated in a position that is laid-back, natural and easy on just about everyone. While this is the case with most exercise machines you are going to find, there are plenty of bikes and recumbent bikes that are expensive. However, there are also plenty of recumbent bikes that are more affordable, which makes them the perfect option for anyone looking to start their workouts from home while on a budget.
Benefits of Recumbent Bikes
As I mentioned in the previous section above, there are so many benefits when it comes to recumbent bikes and I'm sure you're going to find that each of the benefits will speak to you in a different way that makes you want to have them. I've covered it previously so I won't go into a lot of detail here, but one of the biggest benefits is the laid-back position that it allows you to ride in so that you can get the benefits of biking without the uncomfortable experience.
Another benefit that you are going to find when it comes to recumbent bikes is the better overall workout. You already know that cycling is going to help with the muscles in your legs, thighs and buttock, but when you use a recumbent style bike, you're going to find that you will also work to build strength in your lower extremities. The workout as a whole is going to make it so much easier for you to burn your calories and lose the weight you want to use.
Last but not least when it comes to the benefits of the recumbent bikes, you're going to find that this is a great option for anyone that suffers from arthritis. Regular biking requires you to pedal and stand at times which puts a lot of pressure on your hips and knees. However, if you choose a recumbent bike, you have considerably less stress on your knees and hips. These bikes extend the angle that your knee bends at which helps to ensure that they aren't flexed as much with every rotation. So if you suffer from hip or knee pain, this might be one of the most notable benefits for you to have.
What To Consider Before Buying
When you go to buy just about any exercise bike, there are a lot of things that you need to remember and make sure you are aware of before you purchase. The following are the most important for you to consider.
Price
Anytime you decide to make a big purchase such as a piece of exercise equipment, you want to make sure that you set a budget for yourself so that you know exactly what you are looking to spend and you don't try to spend above your means. There are some very expensive options when it comes to these bikes but for most people, some of the more reasonably priced options are going to work just fine.
Durability
No matter how much you decide to spend on your equipment, you want to make sure that it is strong and durable to hold up for a long period of time. When it comes to a recumbent exercise bike, try and find one with a strong frame and pedals as those are the two things that often can break the most. Additionally, try and find a comfortable yet strong seat to sit in.
Features
There are plenty of features that you're going to find in these exercise bikes and some of them can make or break your decision to buy. If it matters to you, make sure you are paying attention to some of the extra features that you can find such as a monitor to display your fitness data, an adjustable seat, adjustable pedals, heart rate monitors and other features that can improve your experience.
Final Verdict
Now that you have had the chance to review all of the different things about recumbent exercise bikes, it seems like you should be ready to make the decision regarding which bike you are going to want to purchase! If you already have a bike in mind, make sure that it fits with all of the things we have talked about in this post such as the durability and the price. If you don't have a bike in mind and you don't know which bike is going to be best for you, I highly recommend looking at the product recommendations provided above. While some of them might not be a great fit for you and some might not fit your budget, one of them are sure to be a great fit that you'll love to add to your home.