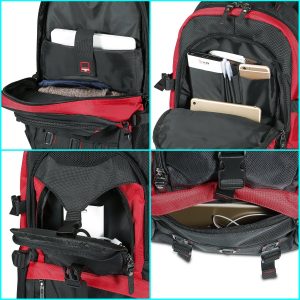 If you're a soldier or land manager looking to operate efficiently in the field you need solid options. Perhaps you are an outdoor enthusiast or a recent graduate looking for a new backpack, or maybe you might just be someone who is active, mobile and prefers to be water-proof— tactical laptop backpack reviews are an essential component to your purchase.
The fact remains that with unpredictable weather patterns, more digital accessories on our collective person than ever before, and with all of us living in a time when we find ourselves too busy—and oftentimes distracted at every turn—each second counts. There's no excuse for having to be patient with an unreliable pack. Having reliable, trustworthy gear that provides peace of mind is more important than ever.
Comparison Table of Top 5 Tactical Laptop Backpacks
| Name | Material | Price on Amazon | Our Rating |
| --- | --- | --- | --- |
| KAKA Backpack | Terylene Oxford Fabric | | 4.9/5 |
| Red Rock Navigator | 600D Polyester | | 4.5/5 |
| Seibertron Sling BAG | 900D | | 4.7/5 |
| SUNVP Daypack | 900D nylon | | 4.6/5 |
| Maxgear X-7 Laptop | 1000D Nylon | | 4.5/5 |
Further Reading: Best Bug Out Bag Backpacks Review of 2018″
Here is our list of the top five tactical laptop backpack reviews of 2018:
1.KAKA Backpack for 17-Inch Laptops
The most colorful entry on this list, the red KAKA backpack serves its purpose with a bit more style. The red color makes it stand out from the rest of the options discussed here and it also has more of a "casual" or "campus" feel—it's the best option for school but as a result is the least "tactical" of the group. However, it is still a versatile bag, especially considering it has ten pockets to work with. 
Pros
It's made from durable Terylene and has a water-resistant lining. The aforementioned versatility comes through with the 10 pocket options, including one main zipper, two side mesh pockets, two small pockets, and two pen loops. It fits up to a 17" laptop which is a definite bonus—laptops are only growing larger and this bag secures the laptop and also contains a lock. It has a nice overall design and the larger zippers are convenient. The lower price point is attractive so this is definitely budget-friendly.
Cons
Again, this is the least tactical of the group as far as aesthetics. It has little character and is a bit generic in the looks department, despite the warm red color that makes this bag pop. The superfluous buckles and straps might make it less appealing visually, and it is a long bag—the larger, lengthier design means this bag might not be for everyone.
2.Red Rock Outdoor Gear Navigator Laptop Bag
Red Rock is typically associated with the outdoors and this bag certainly fits the bill, although arguably to less of an extent than other outdoor brands. At a median price range the bag is still sufficient for consumers on even an average or mid-range budget, and the black model is less expensive than the colored models, including camo and coyote, which retail at a higher price. It is the model here that is the most "bag" like in every sense, in both design and aesthetic. 
Pros
This bag definitely has a resilient, tactical look and is built like a champ. Its rugged construction, which includes a molle webbing throughout the bag, has PVC lining which reinforces the strength of the bag. Customization is possible with the variety of pockets and pouches and the laptop sleeve is padded. In total there are twelve storage compartments so anyone who needs to carry anything in the field is set. There is also strap storage and contoured shoulders on said straps.
Cons
The front flap Velcro design and construction might not be for everyone either, and the bag does trend on the "smallish" end of the design spectrum. Again, the "bag" look and tactical application mean this is not a "trendy" bag or messenger-style design, and this is certainly not the choice for school or the office. The best option if you're looking for a true field bag. Moderate price point could also be seen as a negative, especially if you choose the colored bags.
3.Seiberton Waterproof Tactical Laptop Backpack
This particular tactical laptop backpack has the most "standard issue" look and might remind you most of military aesthetics. It looks cool and very much has a Desert Storm vibe happening which might be a good or bad thing depending on what you're going for—this is a product that looks like it may have come from a military surplus store. Median price point for an average budget.
Pros
Waterproof. Fair price for a lightweight, small bag. Again, this bag looks cool and seems to have the look of some sweet military applications. Molle design is legit and like its competitors, the price point only remains on the standard bag, if you choose different colors or more serviceable options the price goes up a bit. If you're carrying mobile devices or smaller tablets than this is your best choice.
Cons
Not all bags are created equal and there are more downsides to this model than the other bags on the list, despite looking badass. Small. The zippers are low quality and the side pouches are too small. Likewise, the water pouch is barely large enough to fit one bottle of water, snugly. The shoulder straps are only 1.5" in width and to be frank, it is not the best choice for laptop storage, holding devices up to 14" only.
4.SUNVP Tactical Military Daypack Sling Chest Laptop Backpack
The most unique-looking of the bag on the list, the SUNVP entry is worth a second look. Also appearing more "military" like with a "surplus" feel, the bag is nothing short of convenient and versatile in every sense, as it's the most mobile of the group. A messenger style "half" stylized bag it may be unorthodox for the office or classroom but does have a field bag sensibility. 
Pros
Wide shoulder straps and a tough scratch-resistant exterior. It's comfortable, which is sometimes all it takes for some consumers. This is a bag you could run or climb with no problem. Strong, durable construction and due to the size and model it has decent weight distribution which might appear awkward, but it works. It also has an appealing look and is no doubt a popular choice for the camping or outdoorsy set. Practical and tactical and budget friendly.
Cons
Some of the parts and accessories are not trustworthy. The zippers and nylon buckles are weak and seem far too fragile and prone to breakage. I could foresee some of the smaller moveable parts needing to be replaced sooner than later. The phone and mobile device pouches are not ideal—the phone pouch is just 4.5" and the mobile device pouch is only up to 10" so essentially, you won't be storing or carrying any laptop beyond a netbook or larger model iPad.
5.Maxgear X-7
This is a very cool bag and Maxgear X-7 is most assuredly the most tactical of the group. Its rugged, hyper-masculine look and feel make it an appealing choice. However, you do get what you pay for- the high-quality construction and military-grade application come at a higher price point and would be for those on a less discerning budget. At almost double the cost of the other bags on this list, the utility is not lost. 
Pros
As mentioned, this is the most "professional" of the military, tactical style bags discussed here. Fabric and smaller parts are of the highest quality, including Dupont fabric protection and YKK zippers, both of which are the best in the business and are well-known for their versatile durability and all-weather survivability. PALS webbing on top of that only reinforces the argument that this is your best bet. UTX-Flex buckles are yet even more reason to consider this, as is the larger laptop pocket, up to 15.6". There's even a useful pouch on top of the main enclosure flap so no space is wasted on this bag. Durable padded back and padded straps.
Cons
The price point is the biggest drawback but this is clearly offset by what is most assuredly a lifetime purchase. This is a bag for those on a large budget. There are dozens of loops and Velcro exteriors which some may find superfluous and less aesthetically pleasing.
So what's the best approach to choosing the best tactical laptop backpack? Obviously this depends on what you're looking for, what your pack might be used for, and certainly what sort of budget you're working with.
The first factor should be your budget, and choosing an option at a reasonable price point to suit your needs. But remember, oftentimes a pricier item is also better built or comes with a certain ethos that often leads to quality products and satisfied customers—no one wants to have to buy a new bag every time they're deployed or a new school year begins or a new hunting season is underway. Keeping in mind that if you're looking for a laptop bag, how big is your device? If you have a number of phones or mobile tablets, you'll need a smaller pouch than someone with a laptop with a larger resolution screen.
Consideration for things like size, the amount of storage space, the mobility and weight of a bag and even the aesthetics and possibilities/customization options are all factors to consider, in addition to the interior and exterior features. If it's possible, comfort and ergonomics may play a part, as is the factor of how many numbers of pockets and pouches are available in the bag.
As far as aesthetics, are you looking for a camping-style backpack look, a tactical field bag look, or perhaps a messenger style bag? The military surplus or standard issue look works for some consumers, but not everyone. How durable and weather-resistant are each bag, and how deep is the storage space? These are all questions to ponder as you mull over the decision to purchase a new bag.
In summary, the marketplace is full of options when it comes to tactical laptop backpack reviews—shapes, sizes, weight, versatility, durability, and styles all vary—so it's important to have a keen eye and inform yourself in order to make the right choice as a consumer when it comes time to make a purchase. Weighing your options and being an informed comparative consumer are beneficial when weighing tactical laptop backpack reviews. Depending on how much you're looking to spend and depending on the specifications you have in mind that would best suit your needs, your options are limitless when it comes to quality, reliable gear.