Marcy ME 709 Recumbent Exercise Bike Review : For an exercise routine that is great for many levels of fitness, the Marcy ME 709 Recumbent Exercise Bike is a great option for daily fitness. This exercise bike is also small and compact, making it perfect for tight spaces while still allowing you the chance to take your exercise routines to the next level. There are so many exciting things about the recumbent exercise bike that you will instantly fall in love with this piece of equipment. Below are a few of the most exciting features and benefits of this exercise bike as well as a few of the pros and cons of the bike. Is this bike the right one for you? Will the exercise bike be the best fit for your lifestyle? There's only one way to find out. By reading the product review below, you can decide whether this is the right exercise equipment for you!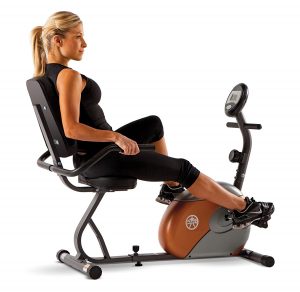 Features
The Marcy Recumbent Exercise Bike has several different and exciting features. The first feature of this bike is the incredible eight levels of resistance to give you the best workout for your fitness level. This bike has a large display screen to show your tracked speed, time, distance, and calories. With an exercise bike that has an easily adjustable tension knob, you can sure to have a workout that is perfect for your current fitness level.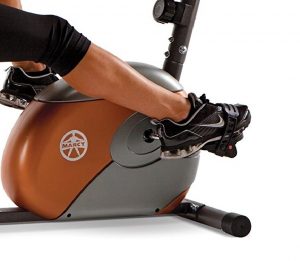 The exercise bike also has adjustable straps for your feet, pedals that are counterbalanced, and even transport wheels built-in. The recumbent exercise bike is also outfitted with a special frame design that provides a comfortable entry and exit, and the foam seat and handlebars provide comfort while exercising as well. The steel frame can be purchased in several different colors, giving you a chance to be unique as well.
 The display on the exercise bike is large enough to showcase your speed, calories, time, and distance, but it is small enough to keep from taking up too much space in your room. The best feature about this exercise bike is the small frame, which allows you to keep your machine in the corner without taking up needed space in a room.
Read more: Schwinn 230 Recumbent Bike Review
PROS

and

CONS
The Marcy Recumbent exercise bike has several cons, but they don't put a damper on this great piece of equipment. One of the only downfalls of this bike is the length. For taller people, it is the perfect length. For shorter folks, the bike can often be a bit too long, and users might struggle to try to properly use the machine.
Another downfall is an assembly problem. The factory screws a bit too tight when attempting assembly. Some users have even had to unscrew these before putting any bars together.
These cons obviously don't stop users from purchasing this incredible exercise bike, and the pros outweigh the bad things here. One of the most interesting things about this bike is the noise. Most exercise bikes are loud, but the Marcy recumbent bike is much quieter than other models.
This bike also monitors your exercises including your time spent, calories burnt, your average speed and the distance traveled. The assembly is quite simple aside from the one issue with the screws. The price of the exercise bike is also quite a great feature. The Marcy Recumbent bike is budget friendly, with a price much lower than other models of this sort. You can be sure you are getting a great deal with this exercise bike.
Benefits
Aside from typical benefits, this exercise bike has multiple benefits for users. This bike is comfortable, which is great for those who need the extra comfort when exercising. Anyone can use it because of the easy entry and exit for users, which another comfort benefit added to the bike. It is also easily adjustable for different fitness levels, which an important benefit.
The fitness bike has built-in wheels so anyone can easily move the bike around for easy access. By using this particular exercise bike regularly, you could also experience increased benefits to your health as well. Things such as an increase in stamina improved cardiovascular health, and even reduce fat. Did I mention you will have fun while using this exercise machine? You can enjoy an entire, comfortable workout session on this exercise bike, and you can enjoy it for years to come.
Is the Bike for Me?
Do you like to exercise? Do you wish you could exercise more? Are you just starting out with exercise routines? Do you need a low-impact way to burn calories and reduce fat? Do you want to avoid the gym and workout in the comfort of your home? There's good news if you answered yes to any of these questions.
If you are an avid exerciser or a new fitness guru, this bike can be the right one for you. Made specifically for those just starting or those with joint pains, this bike gives everyone a chance to use it. Because of the eight different levels of tension, any fitness junkie can enjoy the bike. Whether you are older or younger, you can still take advantage of this exercise bike's amazing features and benefits. Giving you the chance to enjoy your workout in private, the Marcy recumbent exercise bike is a great choice for your lifestyle.
Summary
Exercise bikes have been popular for many years, giving fitness gurus and even novice fitness lovers a chance to workout in the privacy of their home. The Marcy Recumbent Exercise Bike is a great choice for any fitness level because this bike offers many different levels of tension for different people. The model is lightweight and slim, which is great for storage.
It allows users to keep their free space cleared up, and the built-in wheels allow users to pull the bike out each day for their workout. The price of this exercise bike is also amazing. Sitting at a budget friendly number, this bike can be purchased by most people, giving them a chance to have freedom in fitness. If you are one of these types of people, you might wish to invest in this recumbent exercise bike.
Read More: Tips to Motivate You to Workout