Coleman Tent Reviews: Camping has been a popular pastime ever since the late 19th century, so the search for good camping equipment is not a new thing by any means. Back then, as now, there was a wide range of equipment in use, from tents improvised from a simple canvas tarp to luxurious tents that were set up by the servants or native bearers, on safari.
The equipment has improved, but there's something new about shopping for it. Until recently, the pool of opinions about camping equipment that people had access to was small. They could ask friends who camped, or other people that they met out camping, but it was remarkably lucky to get as many as a dozen opinions about a particular tent.
Short Overview of Top 5 Best Coleman Tents
| Name | Weight | Color | Check Latest Price |
| --- | --- | --- | --- |
| 4-Person Instant Cabin | 19 pounds | Brown/Black | |
| 6-Person Instant Cabin | 12.58 pounds | Brown/Black | |
| 8-Person Red Canyon Tent | 24.8 pounds | Red | |
| 8-Person Instant Tent | 43.35 pounds | Brown | |
| Montana 8-Person Tent | 11.7 pounds | Green | |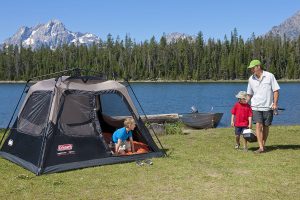 Today, we've got the internet, and camping equipment reviews can be found with a few mouse clicks. For any particular tent, you can find opinions on their positive and negative points and features from hundreds of people. If you can find enough trustworthy reviews, equipment selection is now far easier than it ever was before.
Why Coleman Tent Reviews?
The Coleman company started because of their gasoline-powered lighting back in the first decade of the 20th century, and it was a hit with campers. They added a gasoline stove that saw duty in WWII, and their equipment was popular with campers after the war. They added tents and sleeping bags to their line of products in 1962, and quickly became the best-known, highly respected supplier of camping equipment.
You'd be hard-pressed to find a camper who hasn't heard of Coleman, and I'll bet that you can't find a Camping Supplies aisle in any store that doesn't stock at least some of their gear. Because of their popularity, doing some Coleman tent reviews seems an obvious choice.
Now we'll present 5 Coleman tent reviews.
Okay, let's get one thing straight right now about all tent manufacturers. Their idea of 'person' is that if you can lay a sleeping bag down in a space, that's all a person needs, camping.
At 8 ft by 7 ft for interior floorspace, with a peak of 4'11", four people sleeping in this had best be good friends and fond of snuggling. They will have a 24″ wide space for themselves. In reality, it will comfortably fit a queen-size air mattress, with some room left over for gear.  
Coleman claims that it has an integral rain fly, but they also sell a real rain fly as an accessory, and it's highly recommended if you ever camp in rain. There are lots of Coleman tent reviews about this tent that will support this claim.
That said, this is a marvel of technology. The exterior frame is attached, so it really can be set up by one person in less than 2 minutes – maybe one minute if they're well caffeinated.
It has interior pockets on the walls for stowing small items, like cell phones. There are windows around for good ventilation and viewing. The Polyguard 2X™ fabric it's made of will stand up to extensive use, and it's got that very important feature for people who have ever gotten to their intended campsite a bit late: it sets up quickly and easily.
Oddly, the Coleman.com site doesn't show this in a search, though it's still sold through Amazon. It features the same "ZOMG, was this easy and quick to set up" feature that impressed me about the four-man model. To fit 6 people, this 10′ by 9′ tent will have someone sleeping by somebody else's feet, but it could be done. It should be comfortably roomy for 4 people. 
One thing that the Coleman tent reviews will reveal is that few tents come perfectly waterproofed. With any brand-new tent, the test set-up at home should include using a seam waterproofing treatment on the seams, and tent waterproofing on everything else. This is old, time-tested wisdom. Tents aren't waterproofed well in anyone's factory, and applying seam sealer and waterproofing is just part of buying a new tent. The rain fly is sold separately as an accessory, and you will want it if it rains.
With a 6 foot center height, this will feel less cramped than shorter tents. It will fit 2 queen-sized air mattresses with a bit of maneuvering room left over. There are a couple of wall pockets to stash small items. Windows on all 4 sides and a vent on the ceiling give plenty of ventilation. The stakes that come with this tent aren't great; you may want to get better.
This dome-style tent is a roomy 10′ x 17′, with two removable interior walls that make 3 rooms for privacy. There is enough space in each room for a queen size single-height air mattress, plus some gear storage. This tent has Coleman's usual two side pockets, which are handy, but more of them would be better in a tent sized for this many people. The peak of the tent is a generous 72″, giving plenty of headroom for most people. 
The two side windows are mesh, without flaps. Rain doesn't come in, but this could become a problem in cold weather. It's not nearly as easy to set up as their Instant Cabin models, but it can be done reasonably easily by one person. The poles are color-coded to simplify the process.
Online Coleman tent reviews of this model are very mixed; plenty of people love this tent, but others complain about quality issues, which is unusual for Coleman products. Poles breaking, seams ripping easily, fittings breaking, and zipper problems are widely reported, which may be why Coleman has discontinued this model. Because it is discontinued, replacement parts may be difficult to find.
If the relatively low price for this size of tent appeals to you, one safe option would be to buy it from a vendor with a good return policy, such as Amazon. Then you can check the quality for yourself and return it if need be.
This 14′ by 10′ tent has a center divider to make 2 7′ x 10′ rooms, with a door at each end, or it can be opened up and tied back. The center is 6'5″ high, so there's headroom for everyone but the very tallest people. The steel poles are jointed and attached for a very quick set-up. The tent bag that comes with this has a removable gusset, for less than expert folding to fit anyway. 
The large front door is the inverted T style, and the rear door is D-shaped. There's a lantern hook in the ceiling, and the floor extends up the walls for a few inches to keep water out in heavy rains. In several Coleman tent reviews, people have reported these tents getting through heavy rainstorms without any leaking, even without the accessory rain fly. Other tent reviews reported leaks and recommended the rain fly. Quite a few Coleman reviews comment on the stakes that come with the tents being short and flimsy, and recommend getting better stakes.
With 2 doors and 7 screened windows, this tent will give you plenty of ventilation, or they zip closed when you'd prefer privacy.
With 2 doors and 7 screened windows, this tent will give you plenty of ventilation, or they zip closed when you'd prefer privacy.
This dome-style tent is 16′ x 7′, which is enough room for 3 queen-size air mattresses plus some gear. It has a ceiling height of 6'2″ in the center, so there's a fair amount of headroom. The hinged D-shape door is centered on a long side, and has an awning above it to make a dry spot for entry. There's even an electrical cord port for running an extension cord inside.  
There are 2 ventilation windows high on the sides at a slant, so rain won't get in when they're open. They're not very large, so airflow through the tent during hot weather could be a problem, though this is a nice feature for cool and cold weather camping.
The rain fly is included with this tent, which takes about 30 minutes for an experienced camper to set up solo, or half of that with a helper.
In Conclusion
Coleman has been making tents for quite a while, and they've got a nice variety of styles and layouts, so it's easy to find one that will suit your camping style. Their Instant Cabin styles are a wonderful innovation, particularly for novice campers who don't have much experience in setting up a camp.
Conversely, their once-outstanding reputation for quality seems to have run into problems. Plenty of tent reviews continue to give them high marks for quality, but other Coleman reviews tell disturbing stories about poor workmanship, and substandard parts. A good return policy with the vendor is recommended.