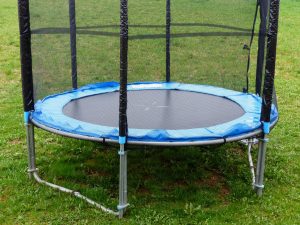 The summer months are a great time to get outdoors and have fun. Most people go on long vacations to extravagant destinations or go to theme parks, but why spend all that money when you can have just as much fun at home?
Pools are always fun during a hot, summer day, but if the sun isn't blazing, the water tends to be a little chilly. Nobody likes a cold pool. Sprinklers are fun, for awhile. But what should you do during those times of the year where it is nice out, but not nice enough to hop in a pool and go for a swim? Trampolines.
But what is the best trampoline for you? Well, in this article we're going to give you some reasons as to which trampolines are the best trampolines. Hopefully these trampoline reviews help you make the best decision for your family. We have researched and selected ten of the best trampolines to choose from.
Top 10 Best Trampoline Reviews of 2018
The Stay-Put enclosure uses a gap free design to put the netting directly on the mat, making this one of the best trampolines for safety. All of the materials are made with UV protected materials for extra weather protection. Let's look at some pros and cons to wrap up this trampoline review.
This trampoline also comes in blue, red, green and camo, which gives you the opportunity to have a more unique experience while jumping around and dunking. The enclosure also locks in to the mat to leave no gaps for extra safety.
The best part of this trampoline, is the breakaway basketball hoop. The hoop uses a hook and loop construction feature that lets the rim breakaway from the enclosure when enough force is applied. The great thing about the breakaway rim, is that it eliminates the fear of fingers getting stuck or injured while playing. Kids will love this trampoline, and parents could even have fun on it while the kids are gone.
This is one of the most adult friendly trampolines out there. It actually comes with step by step instructions on how to do 5 exercises to get the most out of the trampoline.
The larger trampolines have a maximum weight capacity of around 375 pounds, whereas the smaller styles max out around 260 pounds. The max weight to size ratio is pretty impressive for how cost effective this style of trampoline can be. It is absolutely one of the best trampolines on your wallet if you want a small area of you backyard used up.
5.SkyBound Super 7 The Perfect Kid's Indoor/Outdoor Trampoline
The trampoline uses a one piece mat and pad system is meant to keep your kiddos safe while playing. It also comes with a double zipper alignment to keep the kids inside the parameters of the trampoline. 
This trampoline could very well be the best trampoline made specifically for children. It can be used indoors during the winter months, but is also light enough to be moved outside during the summer. It won't even be a hassle to bring it inside during the spring months if it is supposed to rain outside. This thing is awesome.
The surface area is covered with UV protection to prevent fading, and there is a pad over the springs to keep fingers and toes safe while being used. The rest of the enclosure is made with a mesh netting, which is also designed to keep fingers and toes safe. This is one of the easier trampolines to assemble, since no drilling is required. It ships out at around 85 pounds, which gives you a pretty good idea as to how heavy duty this thing is.
This trampoline however, does have one major drawback. The price. It might not be the best option for somebody looking for a budget friendly trampoline. It is a fairly simple design, but it is rated very highly on safety, which makes it worth the money. Basically, the more money you spend on this style, the more safe it will end up being.
The base is made from galvanized steel, which means it won't go anywhere during a nasty storm. Again, that's a pretty basic thing that most trampolines come with, but it seems to be even more effective with the rectangle shape.
There is a very thick PVC pad that covers both the springs and the poles, for maximum user protection. Not only is the safety net secured by Velcro straps, but the whole assembly uses zero bolts, nuts or screws. Fr something so simple to put together, this has the highest maximum weight capacity of any other trampolines discussed so far at 330 pounds. The springs are also designed to give more bounce, to make it more enjoyable.
Sitting at 14 feet, this trampoline is large enough for a bunch of people to enjoy. Not only is the AlleyOOP trampoline large and sturdy, it is also extremely safe. The springs are designed like the airbag in a car. When someone lands on the trampoline awkwardly, the springs directly impacted engage right away, while the other springs react a split-second later. That split-second gives the body more time to absorb the blow and not injure them. It takes most of the stress off of knees and ankles.
The bounce is so good with this model, that even little kids will be able to enjoy dunking on the basketball hoop. With a maximum weight capacity of 330 pounds, this trampoline was made for everybody.
Now, I bet you are asking yourself, "What should I consider before choosing a trampoline?".
Well, the first thing you should look for is a safety rating. Honestly, that is the most important thing. Assembly and care won't matter if you can only use it once because you got hurt. Make sure it is safe!
Secondly, look for something in your price range. If you can't afford the biggest, fanciest one, don't buy it. Don't mortgage the house so that you can have a trampoline for your kids. In all honesty, kids just want to jump and have fun. They could care less about how thick the steel is, or how high the safety net reaches, they just want to have fun.
The next thing to consider, is the size of the trampoline. If you have a small backyard, you might not want to buy the biggest trampoline on the market. The bigger trampolines are fun, but they usually sit higher on the price scale, which might not work for you. Don't buy the biggest trampoline in the world if you don't need it.
So what are some benefits to having a trampoline?
Well for one, trampolines are fun. Simple as that. They bring kids of all ages enjoyment and they can make life easier for parents too. It's a good way for kids to stay in shape and be active. Often times, kids just want to be outside in the summer and they want to be doing something, and the parents want to relax. What better way to relax than reading a book outside while the kiddos bounce around and have a blast? Maybe lemonade. That might make it better. In all seriousness though, the kiddos will have so much fun they can hardly contain themselves, and heck, it will wear them out before bedtime.
Kids will always find ways to have fun, but having a trampoline just makes it easier for them. They just have to get in and jump. It doesn't get much easier than that. The kids stay safe while they play, and you can do your activities with a peace of mind.
Hopefully our research helps you in your decision on picking out a great trampoline for your family. We did a lot of the hard work for you, so now you just need to go out, find the trampoline that is best for you, and buy it.