You've seen them on TV; you've seen them in stores. Inversion chairs are a thing of the future, but luckily, they are available to you right now. Inversion therapy has brought about big changes in the way people deal with issues in their bodies. Inversion chairs have brought opportunities to help those who have issues in their lower extremities such as lower backs and knees. For those looking for a relaxing experience, an inversion chair might be a great investment. Below is a quick summary of inversion chairs and a few product reviews to help you decide which is the best inversion chair.
Comparison Chart for Top 3 Inversion Chairs of 2018
| Name | Dimensions | Weight Capacity | Price |
| --- | --- | --- | --- |
| Health Mark IV18600 | 52 x 28 x 61 inches | 300 pounds | |
| Stamina In Line | 44.5 x 23 x 53 inches | 250 pounds | |
| Stamina Seated | 50 x 27.5 x 54.5 inches | 250 pounds | |
Why Do You Need an Inversion Chair?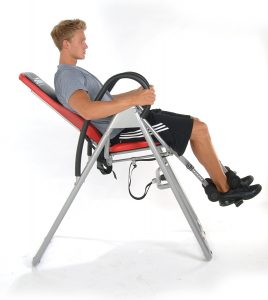 A good question to ask is why do you need an inversion chair? Of course, each person will benefit differently from an inversion chair, but there are some who benefit the greatest from this type of therapy. If you suffer from back pain, headaches, shoulder pain, or other issues, inversion therapy is a great choice for you. There are, however, some people who cannot withstand the pressure that an inversion table puts on their knees and ankles. For those people, an inversion chair is the better option because it allows you to sit while enjoying your inversion therapy. These chairs provide a safer and less intense option for those prefer staying seating during inversion therapy. Do you have any of these concerns? If you do, then an inversion chair might be a great option for you!
Further Reading: Gravity Inversion Table Reviews
Benefits of Inversion Chair
Years of research and studies have proven that inversion therapy is a great benefit to your body and overall health. There are many ways to relish in this type of therapy, but inversion chairs are perhaps the best form of this therapy. Inversion chairs have many great benefits for your health. From pain relief to respiratory aid to mental health, inversion chairs are beneficial to your body in many ways. The more important benefits of inversion chairs include pain relief such as back pain, headache relief, arthritis relief, and others. Another improvement of the inversion chair is respiratory, digestive, immune, and circulatory system improvements all around. Inversion chairs can also improve your physical fitness as well including posture, sleep quality, joint health, flexibility, and increased energy.
Inversion chairs not only have physical health improvements
, but they have
mental health improvements
as well. These mental health improvements include reduced stress and anxiety, reduce depression and mood swings, and even boosts in creative thinking. Inversion chairs also benefit cosmetic improvements as well.
These improvements can include anti-aging and improve physical appearance.
It seems, with all of these benefits, that there's nothing the
inversion chair
can't help you improve upon.
What to Consider Before Buying One
There are a few things you should consider when buying the best inversion chair. One of the first aspects to consider before purchase is the design. Most inversion chairs are padded for added comfort while in the inversion process. There are also other padded additions to consider such as handlebars and ankle supports. Other design issues can sway your decision from one brand to another. These things can include locking systems, frame design, and more. If you are looking for a certain design, you can shop around a little to find the perfect chair for your taste.
 Another thing for you to consider before purchase is the price. There are some inversion chairs that are extremely expensive. However, if you look carefully, you can find great inversion chairs for a fraction of the price, and you won't have to sacrifice any of the amazing features either. Do a little shopping and price comparing before committing to one particular chair, and you could save yourself a bit of money.
Recommended 3 Best Inversion Chairs Review:
This inversion chair is a simple design, but it doesn't sacrifice any of the features for simple looks. This pro inversion chair has a belt, nonslip feet, padded bench, and supportive back support. Not only does it boast of a 300-pound weight limit, but it also reaches up to 70 percent of maximum inversion angle for an intense but supported inversion therapy session. Luckily for you, the safety features are a great addition for those who wish to use the chair on a daily basis. This chair supports the back, knees, and ankles while still giving users the best inversion therapy they can get while still sitting. The Health Mark Pro is a great option for those who have suffered from injuries in the ankles or knees, and it can be used for the elderly who might have weaker ankles and knees. 
This chair has many pros including an easy assembly, sturdy frame, and weight support. One of the only setbacks of the Health Mark Pro Inversion Chair is the size. This chair can be quite cumbersome when stored, and it takes a bit of space to store. Though you can fold it down, it takes a bit of time to fold the chair up. If you want to use the chair every day, folding it down might not be an option.
This inversion chair is an average price, making it budget friendly and great for everyday use. With four out of five stars on the product reviews, this particular inversion chair is simple but loaded with amazing benefits and safety standards. You won't have to worry about unsupported back or ankles while you enjoy the incredible physical and mental health improvements this inversion chair can give you. Does this sound like a great inversion chair investment for you?
For a more modern and sleek look, you can try the Stamina In Line inversion chair. This chair has several exciting features that make it stand out from the crowd. An adjustable belt and adjustment straps for inversion degree make this chair both safe and efficient at the same time. The heavy-duty frame accommodates an easy quick-adjust foot bar to provide comfort for anyone of different heights. The seats, handlebars, and ankle supports are all padded with comfortable cushions to protect you and provide comfort during your inversion therapy. This chair provides easy entry and exit, and it even comes with a leg lock system and a push-button release of the system.
You won't have to worry about your floors being scuffed because this chair comes with special floor protectors made of rubber to provide stability as well. There are many pros to this chair as well, making it the best inversion chair for in-home use. This chair is sturdy and comfortable. It has state of the art safety and support features as well. There is one major downfall of the Stamina In Line inversion chair, and this downfall is the assembly. With several complaints of complicated and confusing assembly instructions, this chair can be quite the booger to put together. The assembly has been known to take several hours or even days to put together, but once the chair is together, it doesn't budge.
One other complaint of the seat not getting fully in line has happened, but this could be an assembly issue. Despite the difficult assembly, the Stamina In Line inversion chair has great ratings and reviews. It provides great relief from pain and reducing other health related issues, and the price is so great that it's budget friendly. Could this be the best inversion chair for you?
This inversion chair brings the classic and sleek modern looks together to provide a one-of-a-kind style that is unique to your taste. This chair includes padded handlebars and ankle supports, and the seat is padded and upholstered for a comfortable feel during your inversion therapy. This chair is made from steel, giving it a heavy-duty frame. It also includes straps to control your level of inversion and a leg lock system that ratchets to hold your ankles secure. The Stamina Seated Inversion chair provides a comfortable inversion experience for people of most heights, adjusting to fit your needs. 
Like all products, there are pros and cons. This chair has an easy exit and entry, and the chair is sturdy. The chair also provides comfortable seating during the inversion experience, keeping your ankles secure. Of course, like all products, this one has downfalls as well. The chair has been known to cause a bit of pain at first use. Reviewers have suggested ways eliminate this pain and to simply keep trying. Others have mentioned the difficulty putting the chair together, with the directions being difficult to read. These few cons are outweighed by the amazing benefits of this chair, and you wouldn't want to miss out on the combination of classic and modern design.
The price is average, making this chair just as budget friendly as the other two products reviewed before. Overall, however, this chair is a great investment for anyone needing a comfortable way to start inversion therapy. Is this the right chair for you?