Schwinn 270 Recumbent Bike Review : If you want to burn a lot of calories in a short period, an exercise bike is one of the best options out there. Just hop onto the saddle on a regular basis, it doesn't matter if it is a road bike or a stationary bike, and you could burn anywhere from 200 to 750 calories in just under an hour. And stationary bikes do have their advantages when compared to road bikes. For instance, you don't have to worry about traffic, adverse weather or road conditions. Stationary bikes face none of these issues and will give you a more focused and sustained high-intensity workout any day, every day. Schwinn is a reputable brand in the US bike manufacturing industry with a pedigree that dates back more than a century. Let's see if the Schwinn 270 recumbent bike lives up to its badge, in this review.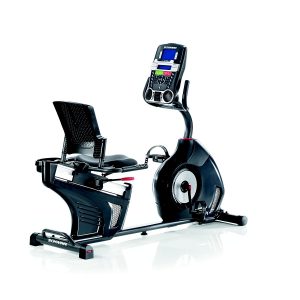 Check Schwinn 270 Recumbent Bike Review on Amazon
The Schwinn 270: Features and Specifications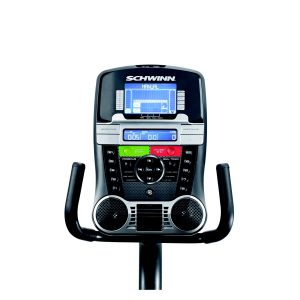 The Schwinn 270 gets the full digital treatment, with a snappy on board computer with bright LED display, and all the features that we have come to expect from a "smart" exercise companion. Yes, you can set your own workout programs with custom intensity and resistance levels. For the record, there are 25 resistance levels, and the ability to store a total of 29 workout programs. The onboard preset rides include fun rides and even mountain challenges to tackle when you feel like you need to up the ante.
The bike uses a perimeter weighted flywheel with a high speed and high inertia drive system. That is technical jargon for something that runs smooth no matter how many different speed and resistance levels you run it on. The 270 is a recumbent bike, so you get a more relaxed seating position compared to a traditional bike. And it goes without saying that there is a decent bit of customization on offer for seat height and posture. The machine can stand a maximum load of 300 lbs.
Read more: Marcy ME 709 Recumbent Exercise Bike Review
Other bells and whistles include the standard connectivity options like USB and Bluetooth. Fitness fanatics can plug in their heart-rate monitors, or download fitness data to apps and platforms like Nautilus Connect and MyFitnessPal. The system keeps tabs on a whole range of data, including Speed, Time, Distance, Heart rate, RPM, Calories, and Resistance. There is also iPod/MP3 player connectivity, with built in speakers to throw some music into the mix.
On the convenience front, the bike delivers with a cooling fan and water bottle holder. And although it is a stationary bike, the folks at Schwinn have been considerate enough to throw in a couple of transport wheels in the design, for those rare instances when you have to lug this 86lbs machine around. And lest we forget, it should be mentioned that the Schwinn 270 arrives as a ready-to-assemble kit, a bit an Ikea furniture set. When assembled, it will sit 49.9 inches tall and 27.7 inches wide, with a length of 64 inches.
Pros and Cons: The Good and The Bad (No Ugly!)
Assembling: The instructions are well written and detailed. If you are mechanically challenged or have no clue about the general anatomy of a bike, get some help. It's easier to set up with two people, but 1 hour is all it should take if you choose to tackle it on your own.
Display and Processor: That console is one of the best features on the Schwinn 270. The bike has a pretty lengthy feature set with data tracking, programmable workouts, and multiple user profiles. The detailed, 2 part LCD provides a wealth of information to the user. On the downside, there are limited customization options on the display screen, but that is a minor drawback in a fantastic package at a very affordable price range.
Ergonomics and Adjustability: The wide, cushioned seat and semi-rigid back offers stability and decent levels of comfort. And since machines like these have to cater to a wide demographic, the seat adjustment is pretty forgiving and easy to handle. But on the downside, taller individuals above 6' 3" might feel the seating to be a bit cramped even on maximum height settings.
Actual Usage: Pedaling on this Schwinn 270 is a joy, thanks to the generously sized pedals and that weighted flywheel. The machine feels rock solid and well planted on the ground. The different resistance levels are easy to access. As far as noise levels are concerned, there aren't any noticeable squeaks or creaks at all.
Connectivity and Tracking: In this day and age, these features have become the norm, and Schwinn has done an excellent job with the level of connectivity options provided on the bike. The onboard music player deserves special mention.
Miscellaneous quibbles: The fan is rather low powered, and the positioning of the bottle holder is a bit awkward. They don't provide a heart rate monitor with the package. But all these are just minor quirks in what is, at the end of the day, an excellent overall package.
Check Schwinn 270 Recumbent Bike Review on Amazon
Benefits of the Schwinn 270 Recumbent Bike
For starters, your tail bone will thank you for reducing the pressure it has to take every time you get into the saddle. The posture on ordinary bikes put a lot of pressure on your lower back and butt, which is not a problem with a recumbent bike.
The machine can handle multiple users with aplomb and can store a maximum of four unique user profiles along with individual tracking data. And managing that tracking data is a breeze, thanks to the connectivity options. The ability to hook up to fitness apps is a neat feature, allowing you to remain fully on track of your fitness goals.
Being on an exercise bike is not just about grinding it out at a monotonous pace. The many preset profiles, intensity levels, and custom profiles allow for a more active workout session where you can mix things up with a relaxing ride followed by a challenging mountain ride session.
Music can play a significant role in any workout, and the Schwinn 270 helps you get in the groove with its media player and speakers. If you want you can even plug in your iPad or Kindle Fire and watch some videos while your legs do all the work.
Who should ride the Schwinn 270 Recumbent Bike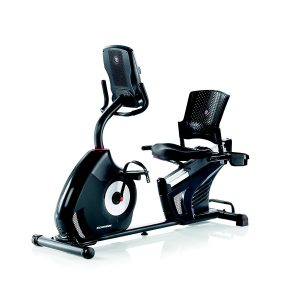 The short answer is, anybody who wants to burn calories while having a bit of fun! The Schwinn 270 is one of those rare machines that manages to have a universal appeal. It is ideal for beginners and fitness fanatics alike. If you are new to the concept of shedding weight, it has beginner friendly profiles to help break the ice (and sweat) for you. Advanced users will love the strenuous resistance settings and the bevy of data tracking systems. And with its multiple user profiles, this is a great piece of equipment for home gyms as well as public gyms alike. Those looking for an upgrade from their old, regular workout bikes to a modern, digital version need look no further than the Schwinn 270.
Check Schwinn 270 Recumbent Bike Review on Amazon
Summary
The Schwinn 270 Recumbent Bike is a stationary exercise bike from the ever-dependable Schwinn bikes brand. The bike punches above its weight in terms of features, providing an advanced processor and great LCD screen with a very friendly User Interface at its budget friendly price. With its 29 programmed workouts, it can give even very expensive exercise bikes a run for their money. Add to that list some smart data tracking, bulletproof reliability, robust good looks and some nifty music and entertainment features, and the Schwinn 270 Recumbent Bike is simply one of the best pieces of fitness equipment your money can buy. Do yourself a favor and get this bike now!