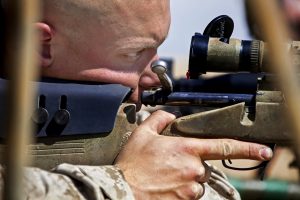 Best Hunting Scope : Before we dive into the reviews, humor me for a quick anecdote. I was raised by a Marine who fought in the Vietnam War. One of my old man's colleagues who was also a war veteran and happened to be one of the best snipers around at the time used to drag me and my dad on bird hunts just to show off his long-range skills. Like nothing I've ever seen, truly. He would assemble that rifle and proceed to knock turkey vultures off of fence posts from what I wanted to believe was 1,000 yards. One thing I learned from him: the scope is an invaluable resource and a worthwhile investment.
Short Comparison of 5 Best Hunting Scope
| Name | Weight | Objective Lens | Price |
| --- | --- | --- | --- |
| Feyachi Tactical 8-32×50 AOEG | 1.9 pounds | 50mm | |
| UTG 3-9X32 1″ BugBuster Scope | 1.8 pounds | 32mm | |
| Nikon P-223 3-9×40 | - | 40mm | |
| Nikon Buckmasters II 3-9×40 BDC | 1.4 pounds | 40mm | |
| Monstrum Tactical 6-24×50 | Around 1 pounds | 50mm | |
What Type of Hunting Scope Suits Your Needs?
I found as I shot with a number of different scopes from various companies, they were much more varied than I'd have ever imagined. There are a ton of scope options, and it's worth doing some compare and contrast as you consider a purchase. Size, weight, the look of the thing, the clarity of the glass, the feel of the eye relief, how well it holds zero, how many focal adjustments are needed, how does it hold up with certain models and under heavy recoil, is it sealed as tight you'd like? You get the idea. The trick is to be patient and do what seems best for your needs.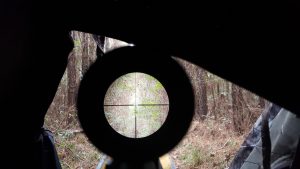 Further Reading: Best Tactical Backpack 2018 Reviews "
What to consider before buying the Best Hunting Scope:
Before buying the best hunting scope the number one consideration is always going to be price point. If budgets are unlimited then you move on to how the thing operates. What follows are reviews for some lower to mid-range and one higher mid-range priced hunting scope but in reality, they're all affordable given their different pros and cons. Certainly you'll want to inform yourself and read up on specs and reviews like this, but it'll always come down to how it feels, how it looks through that glass, how she shoots at long range is paramount and of course how it holds zero under pressure with your expectations of quality and above all, consistency.
Steady as she goes as a consumer but don't be afraid to pull that trigger either. Brand recognition is typically a factor and that's what is so cool about this review. There's a well-known brand in the optics world but also three lesser known brands who turn out a better product than you might expect.
Recommended 5 Best Hunting Scopes Reviews
In the search for the best hunting scope I found myself drawn to this bad boy because of the low price point—in fact, it's the most affordable scope you'll see here. When you're ready to send some more targets to hog heaven, you may as well be in hog heaven yourself and use the leftover savings to focus in on some of the cooler accessories available out there. 
Pros
Ultimately, the Feyachi model is a quality, well-made product for the price. It is certainly inexpensive, all things considered. It's durable and comes with a solid dual red/green illuminated optics weaver that while relatively standard, is a cut above for the price point. Clear cross hairs and a very smooth zoom mechanism are part of the appeal. After over 100 rounds it still holds zero like a champ. The etch-glass reticle is a bonus and is definitely superior to the wire glass reticles I've used in the past on similar models. Shockproof, fog proof, and waterproof (for real—field testing was on a day that featured intermittent rainfall and she held up well).
Cons
Many riflemen might find it off-putting that this scope is non-branded. I'd also debate whether or not this scope truly finds the 32x—it feels more like a 22x and I'd even say compares to a Mueller 14x if we're being honest. But you cannot beat the value for the price with this model.
The BugBuster is another value model at a fair and reasonable price point just below the mid-range median budget for the best hunting scope shopper. Despite the silly name, the AO RGB Mil-dot capabilities and the QD rings are above average. 
Pros
This worked like a dream on my Ruger, and some model scopes just fit certain model firearms like a glove and this was no exception regarding the Ruger. Again, the fog proof and rainproof qualities were evident as I took her for a spin and I also noticed the particularly large field of view which is always a plus in my book. Lockable and resettable turrets were nice and I loved the silky, clean side wheel for illumination. The seal and shock proofing felt more stable than even some more expensive models I've shot with so it's well built (I was actually sort of surprised). However…
Cons
The battery cover totally falls off on this scope, or at least the one I used did on the big day. Sun shades and lens caps are always something I tend to scrutinize—and these were more on the cheap side. In fact, there were also crooked flip caps. I wasn't fond of the low supplied mount either. You can't win them all in a test of the best hunting scope and in comparison to the Feyachi, despite the aforementioned reasonable price point, perhaps it could be an even lower market price consider the nit-picking on the accessories I just went through.
Nikon is one of the world's most trusted brands that goes without saying, and in the photography world they're oftentimes king of the hill. Nikon is also known for high quality products as affordable above median price points. And while this is the second priciest option on our list of the best hunting scope out there, it was the good kind of surprise—a pleasant one. It's almost heartbreaking to have to put this up against its successor on the list, the Buckmasters model from Nikon, but here we go.
Pros
My favorite part of this scope is how cool it looks. The length is great. It seems to me that like the nice fit on the Ruger in the previous review, this was almost AR-specific. It is perfect for an AR man or woman and their firearm. Optics are clear and bright. The variable scope adjustment for 3-9x is fine and dandy and the BDC reticle is nice but had some issues. But man, if you want something to look impressive and shoot like a badass, especially if you're partial to AR then this is your best bet. Plus the lifetime warranty from Nikon. Boom.
Cons
The reticle is canted and moves so you need to make sure that you mount this bad boy carefully or you will most definitely have parallax or sight of view issues. And the fact it is AR specific just may be a con for you, depending on what you're looking for. I love my AR but I have to keep that in mind to try and be more objective here. Narrow crosshairs. I'd wonder how suspect the sight line is during, say, an autumn twilight. Loose rear eye piece rattled.
The Buckmasters was a master class in surprises, especially after dealing with the more expensive P-223 model and wondering if Nikon should stick to cameras for tourists and sight-seers. Alas. At below the century mark in pricing, this is almost a steal. And the name Buckmasters is much more compelling than something like BugBuster when it's time to hunt some deer! 
Pros
Great value, straight up. No foolin'. As far as overall value this might be the best hunting scope. If we're talking strictly overall value for the price that is since it is a bit cheaper than the P-223. Nice glass mounts. And another pro about Nikon? They have an air-tight, high-value lifetime warranty on their products. BDC reticle is easier to zoom than I expected. I was able to sight in 8 rounds for a dead shot at maybe 110 yards, 120 yards at best. Held zero well under heavy recoil when we opened things up.
Cons
Felt AR-specific so if you don't have that AR fever again, it's something to consider but not necessarily a "con". I did feel like the rail was cheaply made, composite metal from China no doubt and loose rings. It was tall but not bulky, and not as lengthy as the P-223. A short tube, so it's not going to fit something like a Savage Axis 2 model. I almost hate complaining about the Nikon entries on the best hunting scope because of the warranty offered. Alas.
Alright, so this is most assuredly a "monster" as the model's name indicates. Monstrum Tactical has sort of outdone themselves here. Granted, this is the highest price scope (it's a monster price at almost twice some of the other models listed here but man is it a beast!). If budget is not an issue and you're a firearm enthusiast (or hell, a former sniper) than Monstrum takes the cake as the best hunting scope listed here, no doubt).
Pros
Beautiful scope. Monstrum has a sand color model known as "flat dark earth" that is a bit pricier than the black model but man, I love the faux-matte finish on the black model. Heavy duty feel. It was a high-performance scope experience and I was rattling off at 500 yards dead on at 24x. FFP and Rangefinder attribute only compliment the adjustable objective lens on this beast.
Cons
Price point is in the high-mid range and would be the biggest downside—but it isn't astronomical. However, it is a budget consideration to be fair. Long eye relief that I didn't care for. It also may be too heavy for some folks. There were audible clicks on the wheel which some people like but I don't care for too much. If we were pals I'd still give you the business and tell you to pull the trigger (literally and figuratively) and purchase this damn scope. Is it a relatively unknown brand? Yes. But the reputation isn't there to be sullied and this holds up well. Monstrum is not Leupold or Vortex or Nightforce (or hell, even Nikon, dammit) but like Feyachi and UTG, it's worth a look as a brand despite its obscurity. Pull the trigger!