Best Rebounder Mini Trampoline : Looking to spice up your exercise routine? Try using a rebounder. Rebounding is a fun cardio and aerobic workout that can be completed on a trampoline. Most people believe trampolines are for children, but that could not be truer. In fact, rebounding can burn more calories and provide more health benefits than running. With a mini trampoline, your can strengthen your body while having fun. In this article, we will go over the many benefits of rebounding, what to look for when buying your first mini trampoline, and options for the best rebounder mini trampoline on the market today.
Benefits of Rebounding
There are a number of incredible benefits that accompany the inclusion of rebounding in your weekly workout. Research has shown that rebounding can be twice as effective as running on a treadmill. In addition, it does not put extra stress on your feet and ankles, which running often does. Rebounding is a low impact workout and does not have a large, negative effect on the joints, soft tissue, and skeleton. It can also naturally reduce joint pain. This is what makes it a great exercise for people of all ages, especially the elderly.
Rebounding also provides users a full body, aerobic workout. This is why it is great for building physical strength and improving muscle definition. It can also: 
Improve balance

Strengthen cells

Boost cardiovascular function

Improve the immune system

Boost digestion

Increase energy
On top of all those wonderful health benefits, rebounding makes exercise fun.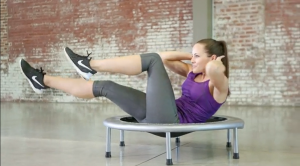 How to Choose the Best Rebounder Mini Trampoline
There are a few things to consider when deciding which rebounder trampoline to buy.
Price: The first thing you must decide is how much money you are willing to pay for your mini trampoline. Rebounders can range in price anywhere from $20 to $400 or more. And remember, the price is not always an indicator of quality.
Durability: A mini trampoline should be durable and be constructed out of high quality materials. The last thing you want is an unsafe trampoline. The material has a lot to do with this factor. Look for a trampoline with a solid metal frame and a durable surface material. You may also want to take into consideration the warranties offered by certain companies and how easily replacement parts would be to obtain. It is also important to keep in mind that almost every mini trampoline will lose some of its elasticity and support with continued use.
Size and Capacity: Most mini trampolines do not vary too much in design and size. The surface area of these rebounders can be different from model to model. Though they may look similar, the weight limit of these trampolines varies greatly. If you intend on using the trampoline for weight loss, you should consider the weight capacity of the trampoline before you purchase it.

Extra Features: Some rebounders come with additional features. The most prominent of these features is a stability bar. This is absolutely necessary in order to do certain exercises, which would be dangerous otherwise. Some rebounders also come with instructional workout DVDs, which can be helpful.
Top 5 Rebounder Mini Trampolines Review of 2018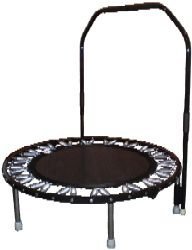 Click on the image or Here to Check it on Amazon 
This is the best rebounder mini trampoline available for purchase. The Needak Ro2-Ro5 Soft Bounce Trampoline is a great device for rebounding. It has an added stabilizer bar for extra security, which is also fully removable. This means you are able to customize your workout depending on which moves you want to do. The total weight of the device only weighs a little over 6 pounds, comes with a 5 year warranty, and is made in America. The total size is 40" x 10," which is perfect for anyone looking for a mini trampoline. 
Pros
Includes a removable stabilizing bar

Lightweight only weighs 6.2 pounds

Comes with a 5 year warranty

Made in America
Cons
Small surface area

On the expensive end of the spectrum
For those looking for a less expensive model, this may be the best rebounder mini trampoline for you. The Stamina Folding Trampoline is perfect for those constantly on the run to and from the gym. It is built of a durable, rugged, all-steel construction. At a mere 36 inch diameter, it is super small and can fit into any small space. This makes it easy to use both indoors or outdoors. It also has 6 rubber detachable legs to provide added stability and a rebounding pad with a safety pad. The rebounding surface has thirty-band tension resistance meaning plenty of safety with each and every bounce. Not to mention, it comes preloaded with warranties if it does break. 
Pros
Can fold for easy portability

Durable, all-steel construction

Budget friendly

Includes one year limited warranty on frame and 90 days on additional parts
Cons
Cover rips easily

Made of poor quality materials
The JumpSport Fitness Trampoline sports a modern design with patented arched supporting legs. The legs have rubber ends to prevent any dents or scratches on your floors. It offers one of the most high-quality bounce pads out there today. It uses EnduroLast-2 bungees to make each bounce last nearly twice as long. Also, it has padded cushions surrounding the bounce pad to avoid any injuries caused by the spring cords. In addition, it is sold in the US and can withstand up to 250 pounds. 
Pros
Patented arched legs for extra support

Padded cushions over spring cords for added safety

High quality bounce pad

Sold in the USA
Cons
Expensive

Trampoline straps do not last long
The MaXimus Pro Folding Trampoline is one the best quarter folding mini trampolines sold on the market. With the ability to easy fold and store, the trampoline is perfect for those looking for a workout tool that has the ease of being portable as well. This is also a great feature for those who do not have a lot of workout space in their house. They can easily do their exercise and store it away when they are finished. Due to its jump springs, it allows for higher and longer rebounding. The unit also comes with a stability bar and workout DVDs. This trampoline weighs 32.2 pounds and can also support up to 300 pounds. 
Pros
Unit can be easily folded and stored away when not in use

Larger springs for a higher and longer bounce

Includes stability bar and workout DVDs

Can withstand up to 300 pounds
Cons
Trampoline is made of poor quality materials

Safety bar can be hard to install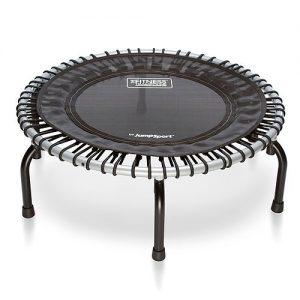 Click on image or here to check it on Amazon
The JumpSport Fitness Trampoline is a great heavy-duty trampoline, perfect for any workout. It sports arched legs with strong rubber ends for added stability and to prevent scratching or scraping against most surfaces. The integrated padded trampoline skirt also adds a higher safety precaution from bouncing on the springs. Made in the US, it is 39 inches in diameter, and can withstand up to 250 pounds. 
Pros
Easy to adjust tension cords

Arched legs with rubber ends for extra stability

Integrated padded trampoline skirt for added safety

Sold in the USA
Cons
Bands are prone to breaking

Springs tend to make more noise than most other trampolines
Summary
Rebounding can provide a fantastic workout for people of all ages. Trampolining engages all of the muscles in your body and places less stress on your ankles and feet. It is a fantastic option for those who want to work out at home, tone their muscles, and have fun at the same time. When searching for your ideal rebounder, you should consider the price, durability, weight capacity, and the special features. Look at these four factors before settling on any rebounder.
There are plenty of mini trampolines available for purchase today, so it can be difficult to know which one will be the best for you.
Our pick for the best rebounder mini trampoline is the Needak R02-R05 Soft Bounce Non-Folding Rebounder.
This trampoline is super durable
and will last you for many years to come. It is very lightweight and is made of only the highest quality materials. One of the best features of the Needak is the removable stabilizer bar. This provides safety and makes certain exercise moves easier to do. No matter what mini trampoline you choose, the important thing is to continue exercising and always have fun.