The only thing more fun than riding a longboard is riding a longboard with a motor. The innovations that have happened in the last several years in the world of electric longboards have been great for consumers. There are so many awesome options out there, however, that choosing the best electric longboard can be a challenge. Ultimately, it comes down to carefully comparing the best options and choosing one that meets your needs as a skateboarder. In this guide we'll review the top five best electric longboards on the market so that you can start cruising on your new board!
Comparison Table of the Best Electric Longboards
| Name | Weight | Max Speed | Price on Amazon |
| --- | --- | --- | --- |
| Boosted Dual+ 2000W | 13.5 lbs | 22mph | |
| Benchwheel Dual 1800w | 15.2 lbs | 20 mph | |
| Yuneec YUNEGOCR001 E-Go | 13.9 lbs | 12mph | |
| Yuneec E-GO2 | 21 lbs | 12.5mph | |
| Airwheel M3 Electric Longboard | 25.5 lbs | 12.4mph | |
Why Electric Longboard?
It's easy to answer the question "Why Longboard?". Because it is a blast! However, it's reasonable to wonder why it is necessary to add an electric motor to a board that's already fun to ride. The answer lies in physics and practicality. Longboarding is fun but it requires an incline to generate speed. On flat ground, longboarding turns into straight up work. Keeping both feet on the board and carving is the most enjoyable part of the experience. Electric longboards enable you to do just that. The best electric longboards offer great features in addition to electric motors, such as regenerative braking and in-wheel motors. These new innovations are making the electric longboarding experience smoother, safer, and much much more enjoyable. Also, boards are getting faster. Most new electric models can cruise at close to 25 miles per hour, with battery life enabling you to sustain that speak for up to an hour.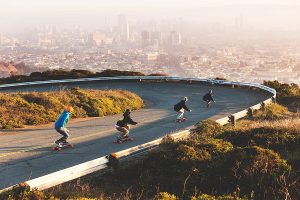 Recommended 5 Best Electric Longboards Review
1.Boosted Dual+ 2000W Electric Skateboard
Surfers and snowboarders will love this model. It offers a smooth carving interface much like riding a wave or mountain. It's powerful, boasting 2,000 watts. This is enough to power up a hill. Its braking technology enables the rider to come to a complete stop while going downhill. The board is smart, with three onboard microprocessors, a plethora of sensors, and even mobile connectivity. This is the best electric longboard for riders who crave power and performance. It's battery technology is impressive as well, featuring automotive-grade lithium batteries. 
The deck is made from bamboo, which offers maximum flexibility and strength. The wheels are loaded, wide, and made by the excellent brand Orangatang. The wide wheels enable aggressive carving for both novices and experts. Torque translates well to the wheels, enabling the uphill accelerations that this board is known for.
   Further Reading: The Best Longboard Shoes Reviews 2018
The Boosted Dual+ boasts a range of seven miles, so it is perfectly geared towards short trips and commutes. It is light, at only 13.5 lbs, which makes it extremely portable on the subway or bus, storable at the office, or in the trunk of a car. The included smartphone app interfaces with the onboard microprocessors in a way that facilitates learning: the speed limit is initially set at 10 mph, then unlocks speeds of up to 22 mph as the rider learns.
Pros
Paired smartphone app,

uphill acceleration,

superior braking,

affordability,

stable wheelbase.
Cons
Limited range,

two charging cables needed.
2.Benchwheel Dual 1800w Electric Skateboard C2
The great selling point of the Benchwheel Dual 1800w Electric Skateboard C2 is that it can maintain its top speed even when climbing hills. It can also power through shallow puddles. This makes it very versatile, and on one of the best electric longboards around. It can travel over a wide variety of surfaces, so it isn't limited to smooth concrete or pavement like many other models. 
Also, it's actually a longboard. With a 40-inch deck, it makes it easier for novices to ride as it features an elongated and stable platform. It's also rated for up to 250 lbs, so bigger riders or those carrying a heavy backpack won't experience decreased performance. For novices, it is straightforward to learn how to ride. Once the rider learns how to properly shift their weight, they are off and cruising on this supremely smooth board. Its remote control regulates speed and mode, which are both user-friendly on this model.
The Benchwheel features dual motors, so a balanced source of power drives the board forward quite comfortably. Its other electronics are safely packed away and safeguarded from damage. Another user-friendly feature is the portability of the board, with a special handle that is included.
Pros
Powerful, extremely stable longboard,

novice-friendly, larger rider-friendly,

versatile surface rider and

easy to carry with its custom carrying handle.
Cons
No LED lights for night,

remote is clunky,

larger footprint makes storage and portability more difficult.
3.Yuneec YUNEGOCR001 E-Go Cruiser Electric Skateboard
The Yuneec E-Go Cruiser is easily one of the best electric longboards money can buy. It is extremely popular for its balance between speed and design. The board's shape is unique, with a tapered design that aids in the board's strength of being great for long rides. It's a smooth, stable platform and ideal for regular commuting. The battery is mounted underneath the deck in an obviously aerodynamic configuration. 
The board's orange and black design looks slick, stylish, and unique. The deck is made from Canadian maple, which is flexible yet strong; an ideal combination in an electric longboard deck. A unique aspect of the board's design is that when flexed, the mounted battery underneath flexes along with it.
The Yuneec's top speed isn't as impressive as other models, however, maxing out at 13 mph. This is still plenty fast for a commuter board, or for just cruising down a boardwalk. However, the affordability of this board makes up for its lackluster speed. You won't be powering up hills on this board as you would on some other competing models, but on flat ground it is still a very smooth ride. Its battery life is impressive, though. It offers 24 miles of riding on one full charge. The lifespan of the battery is rated to 1000 charge cycles, as well. Placed inside of a waterproof housing, the board is fine to ride even on rainy days.
Pros
Affordability,

waterproofing,

long-distance orientation deck design,

battery life.
Cons
Top speed,

power on hills,

ability to aggressively carve.
4.Yuneec E-GO2 Electric Longboard Skateboard
Yuneec's sequel to the popular E-GO design only improves on its predecessor. For buyers willing to spend a little bit more up front, the E-GO2 is arguably the best electric longboard you can buy right now. It follows the design and performance principles of the Yuneec brand by focusing on endurance and reliability as opposed to powerful performance. This makes an affordable option that is extremely attractive to novice riders, or riders who enjoy long trips and commutes on their electric longboard. It has a 400-watt motor, and a maximum speed of 12 mph. 
Its range is an impressive 18 miles, which enables riders to ride all day without worrying about running out of juice. High-performance boards, by comparison, often have a range of just 6-7 miles. The price point of the E-GO2 is much better than performance-oriented competitors, as well.
The remote is perhaps the least attractive aspect of this board, however. The responsiveness leaves something to be desired, which can be frustrating when trying to adjust speed or settings on the fly.
Overall, the price point on this board makes it a valuable electric longboard purchase that comes with a few inconvenient, but not critically important, concessions. New riders and novices will enjoy this board for its reliability, perhaps working their way up to a higher performance board through experience.
Pros
Long range,

stable design,

novice-friendly,

reliable performance.
Cons
Low speed,

clunky remote,

difficulty climbing hills.
5.Airwheel M3 Electric Longboard Skateboard
If you're in the market for a budget option, then the Airwheel is the best electric longboard of its category. And for its low price, it actually offers impressive performance. Top speed is about 16 mph, and its range is approximately 16 miles. It can tackle an incline of 15 degrees. The deck is sturdy, yet flexible, and made from composite materials. It features just one rear-wheel motor, so it doesn't offer the torque or power of higher-priced models. However, on flat ground or moderate inclines, it performs just fine. 
The main drawback of the Airwheel is its limited battery life of just two hours. It does have a paired smartphone app, however the interface is a bit clunky. Responsiveness on the handheld remote could be improved, as well. It has large wheels, the largest of all of the recommended boards, and so stability is superb. Brakes are adequate, and the weather-protector electric motor enables the rider to take this board out in all types of inclement weather conditions.
Another drawback to this board is its weight. It's heavy, at 25 lbs, and difficult to carry around. Its design is not sleek, with bulky exposed motor housing and large battery box easily visible. The charge time is very slow as well, taking three hours to fully charge.
Pros
Low price,

large wheels,

range,

stable and comfortable design.
Cons
Low battery life,

clunky remote,

slow charging, design.