In recent years, maxi climber has gained increasing popularity among exercise enthusiasts. For the uninitiated, a maxi climber (or vertical climber) is a piece of exercise equipment meant to imitate the movements the body experiences when rock climbing. Unlike traditional pieces of exercise equipment like treadmills, exercise bikes, and elliptical machines, maxi climbers are designed to allow the user to burn the maximal amount of calories in the shortest amount of time. Because it's modeled after rock climbing, and due to the sort of strength and endurance rock climbing requires, the maxi climber not only helps promote weight loss, it also helps tone your whole body and increase your aerobic capability over time.

The calorie-burning power of the maxi climber is another feature that sets it apart from other exercise equipment. With only 60 minutes of use, you can expect to burn 500 calories. However, beginners are discouraged from beginning with such an intense workout. Recommended use is to begin by spending 10 – 15 minutes a day on the maxi climber three times a week and build gradually over time. It may not seem like a lot in the beginning, particularly to those accustomed to more standard exercise regimens, but the demand it places on your body is such that you'll be receiving a full-body workout that engages body the upper and lower body as well as your core muscles. The combination of aerobic exercise, weight resistance, and muscle toning offers a three-in-one alternative solution to having to alternate between traditional exercise machines. If used consistently over a prolonged period of time, you will be astonished by the results.
The following review guide will allow you to compare and contrast five highly rated models of vertical climbing machines. These five machines have been selected for their favorable user feedback, affordable price points, and utility of features. All are noteworthy for their sturdy construction, durability, user- and storage-friendliness, and affordability. You'll also notice that each product is accompanied by a list of pros and cons. These are based primarily on user feedback and intended to help readers rule out machines that aren't equipped with the features they need for their ideal workout. Each item is linked on Amazon.com, where you can read further information to make your eventual decision.
Further Reading: ***Best Inversion Table Reviews with Buying guide


Maxi Climber Reviews Including 4 other Best Vertical Climbers of 2018
The following maxi climber reviews will help you to select the best vertical climber to suit your needs. Read on for a complete list of pros and cons.
1.
Maxi Climber – 
The original patented Vertical Climber –
Full Body Workout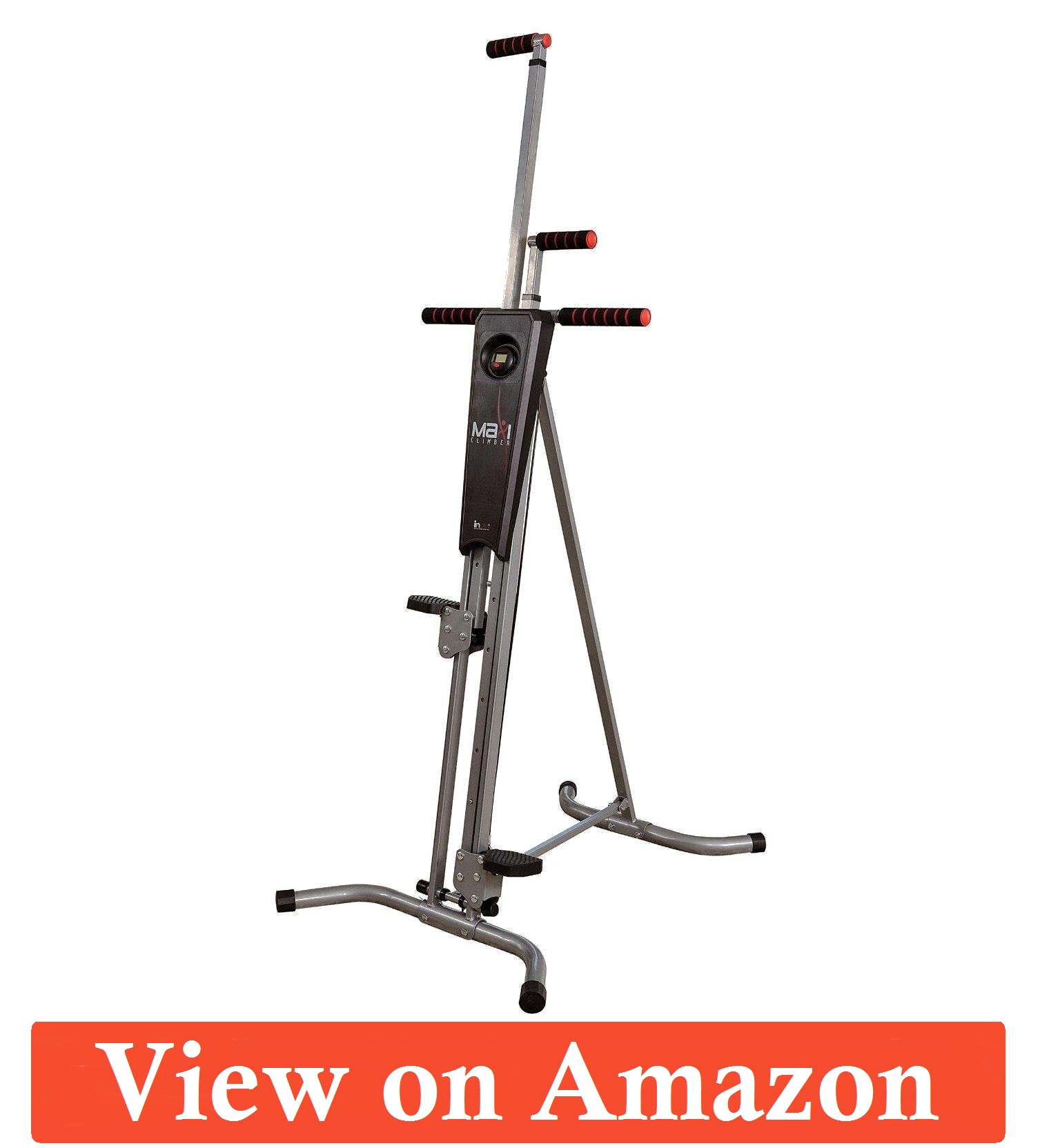 The Maxi Climber is our first choice on our list of maxi climber reviews, and arguably the best vertical climber on the market today. Compared to more traditional exercise equipment like treadmills, exercise bikes, and stair-climbing machines, it is clearly the superior choice. Even in comparison to other vertical climbers, it still comes out on top.
Expertly engineered to engage all of your major muscle groups so it tones while it burns calories, the Maxi Climber offers the user the ideal all-in-one home workout. Its ingenious design uses your body weight for resistance, offering unparalleled cardio and strength-training value without putting undue strain on your lower body joints like other exercise machines.
In addition to keeping your heart rate up, the Maxi Climber workout targets your quads, abdominals, biceps, and triceps, so if your goal is a muscular, sculpted physique, this machine is the perfect choice for you. 
It also comes equipped with a number of features that set it apart from its competitors. This lightweight, durable vertical climber comes 90% pre-assembled upon delivery, making for effortless assembly and easy use. With the ability to support body weight up to 240 pounds, it's an ideal choice for a huge range of body types. Even better, it's available on Amazon.com at a very reasonable price, making it a bargain for those who want to expand their home gym without breaking the bank.
Between its affordability, ergonomic design, easy assembly/storage/portability, and indisputable health benefits, it's easy to see why the Maxi Climber has fast become one of the most popular vertical climbers available today, and why it was included on our list of maxi climber reviews. Read on for even more specs and a comprehensive list of the pros and cons of this machine to help you better decide whether it's the right fit for you.
Pros
Burns twice as many calories per session as a treadmill workout.

Lightweight, portable, and comes almost fully pre-assembled with easy-to-follow instructions for set-up and use. Because it uses your body weight for resistance, it contains fewer moving parts and is much lighter than most exercise machines.

This vertical climber can be easily folded up for hassle-free storage under the bed or in a closet.

An easily readable digital display allows you to track your time, reps, and calories burned while you exercise, so you can monitor your progress as you develop your regimen over time.

Comes complete with a posture guide so new users know exactly how to use the machine without putting themselves at risk of muscle strain or injury.

The machine is extra-quiet, making it ideal for use while watching TV or listening to music.
Cons
The foot pedals are studded, making it sub-optimal for those who prefer to exercise while barefoot.

Although very stable during slow, steady use, some customers have found that the machine can begin to rock slightly at faster speeds. Exercise caution during use.

While it's designed to avoid putting undue strain on your joints, some users already prone to joint pain have reported knee or leg soreness after prolonged use. Use your judgment and never begin a new exercise regimen without a doctor's supervision, especially if you have pre-existing health problems.
Maxi Climber Before Using & After Using Pics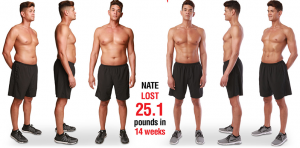 2.

Maxi Climber Total Body Workout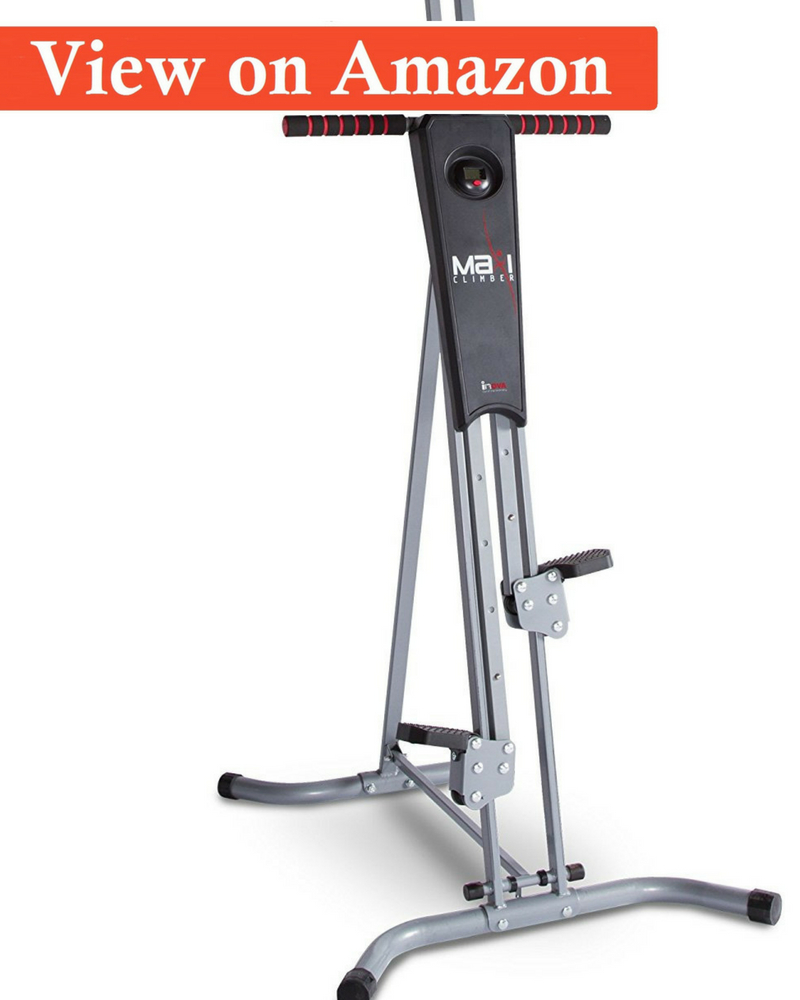 The same manufacturer who brought you the original Maxi Climber Vertical Climber has done it again with the Maxi Climber Total Body Workout. For all of the advantages of the original Maxi Climber, plus a number of new enhancements, this machine has earned its place in this best vertical climber review list. Like the original, this vertical climber uses your body weight for resistance, making it an ideal exercise machine for those who want to sculpt and tone their bodies without placing themselves at risk of joint pain or strain.
The construction is both lightweight and durable, making it easy to use, fold up, and store safely out of sight, and guaranteeing years of use and enjoyment. It's also fully adjustable, so people of all statures can work out in comfort. Best of all, it's just as affordable as the original Maxi Climber, making it suitable for fitness enthusiasts on a budget. Read on to learn more about the benefits of this vertical climber and how it stacks up next to the competition for the title of best vertical climber.
Pros
Ergonomic design makes it perfect for all body types, and adjustable height lets you tailor it to different users.

Isometric non-stick grips allow you to exercise in comfort without slippage or hand pain.

Personal workout timer automatically starts and stops with your workout so you can track your progress.

Easy folding design allows for effortless storage.

Maximum weight limit of 250, making it appropriate for users of all sizes and ideal for those exercising for weight loss.

Built for stability: This machine is well-balanced for safe, easy use even on carpet. There's no risk of it tipping over!

Comes with a workout planner and nutrition guide.
Cons
Some users have reported that the machine doesn't "glide" as easily as they'd like and have suggested that the lack of shock absorbers/tension adjusters may be to blame.

Some users already prone to joint and muscle pain have found that working out on the Maxi Climber over a sustained period has exacerbated their pain, so be sure to use the machine with caution if you fall into this category.

Since the machine uses your body weight for resistance, heavier users may find it difficult to use at first, especially if they're out of shape.
3.

Conquer Vertical Climber Fitness Climbing Machine

Conquer is another tough competitor in the Maxi Climber reviews competition. In addition to being even more affordable than the previous two climbers we've looked at, it offers the same total-body aerobic/anaerobic workout and low-impact muscle toning as its competitors. If the stability of your machine is a concern for you (particularly if you're somebody who likes to work out on a carpeted floor), then the Conquer Vertical Climber may be just what you're looking for. It's calibrated for balance and safety, with four rubber non-slip pads on its feet to ensure you stay solidly grounded even during higher-intensity sessions. The ergonomic grips protect your hands, providing maximal comfort and ease of use. It also folds up and can be easily stored away to free up space between uses. 

This vertical climber is one of the earliest releases from the Conquer line of climbing machines, and it shares many (but not all) of the same features as the 2.0 version we explore in item #5. Most notably, this machine comes with a traditional cable pulley mechanism that makes it lighter-weight than some of the other machines in the Conquer series. Users who are keen on owning a vertical climber that's easy to assemble, collapsible, and portable will consider this a benefit.

Pros
No maximum weight limit listed. It can easily support even heavier users. The only limit is your endurance!
Measures 52″ in height and 27″ across its base, so it consumes little space even during use.
Folds up neatly for easy storage.
Sells at a lower price point than many comparable vertical climbers.
Cons
Requires more assembly than some of the other vertical climbers on the list.

Comes with tools for assembly, but some users have reported that they're ineffective compared to their own household tools. Some have also found the assembly instructions to lack detail.

This machine doesn't come with a step counter, so if tracking your progress is important to you, you will need to supply your own tracker for the job.

Earlier versions of the machine come with a cable pulley mechanism that some have found wears out quickly. However, newer versions are made of more durable, longer-lasting parts.
4.

Sunny Folding Climbing Stepper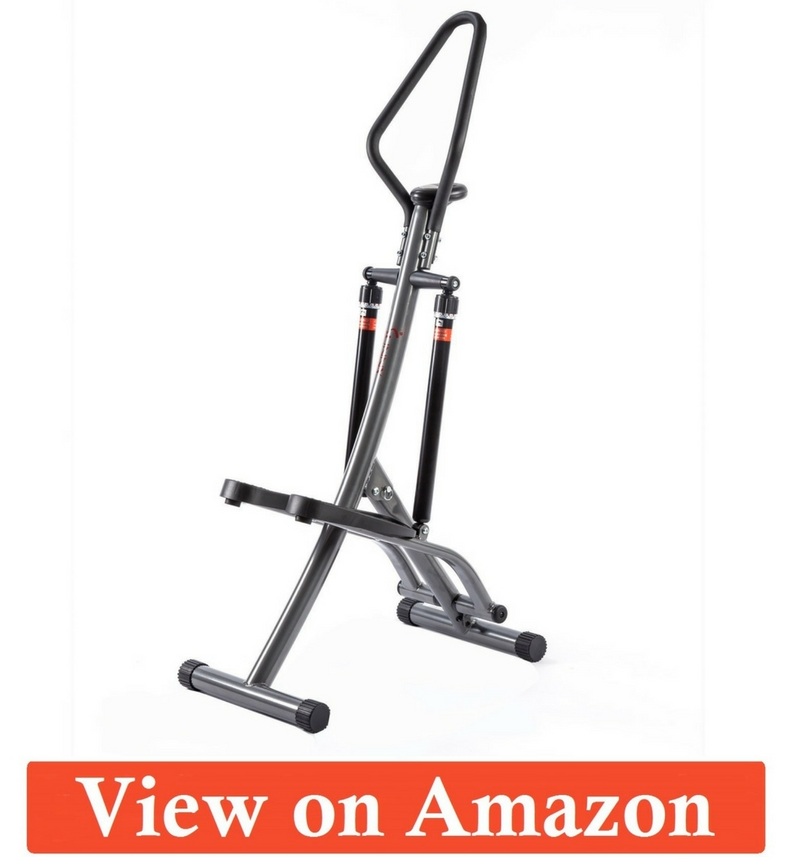 Our maxi climber reviews continue with the Sunny Folding Climbing Stepper. Unlike some of the other machines on this list, this one is recommended by the manufacturer for indoor rock climbing training. Not only can you reap the same aerobic/anaerobic and muscle-toning benefits associated with vertical climbers, indoor climbing enthusiasts can also develop their bodies' endurance and prep themselves for actual climbing. It's offered at an even more affordable price point than the previous machines on the list, and it comes with many of the same features users have enjoyed in the others, too, including a multi-feature LCD digital display, easy storage, and smooth and quiet internal components. Plus, the twelve tension settings afford you extra freedom to customize your workout, providing you with an appropriate level of resistance whether your goal is to burn fat, build muscle, or simply keep your heart rate up.
Pros
A pair of adjustable resistance cylinders are what give this machine it's uniquely smooth, gliding step.

The easy-to-read digital display offers four different modes: calories, scan, timer, and count. Users can monitor their own progress and see their gains.

Heavy-duty steel and plastic construction makes the machine both highly durable and super lightweight.

Twelve tension settings allow you to customize your workout and increase the level of difficulty as you build endurance over time.

Incredibly easy to disassemble. Simply remove a pin and the machine folds up completely flat, so it can be slid under the bed.
Cons
Some users find that the plastic components make the machine feel less sturdy or durable than other vertical climbers. However, it's worth noting that the construction is still able to withstand even a high-impact workout session without fear of damage.

The maximum weight limit of 220 pounds is lower than some of the other machines listed, but some heavier users still report that they've been able to safely use the machine.

Some have found that the machine is noisier than others, and that you can hear struts working while you exercise. However, the machine is still completely stable and resistant to wobbling.
5.

Conquer Vertical Climber Fitness Climbing Machine 2.0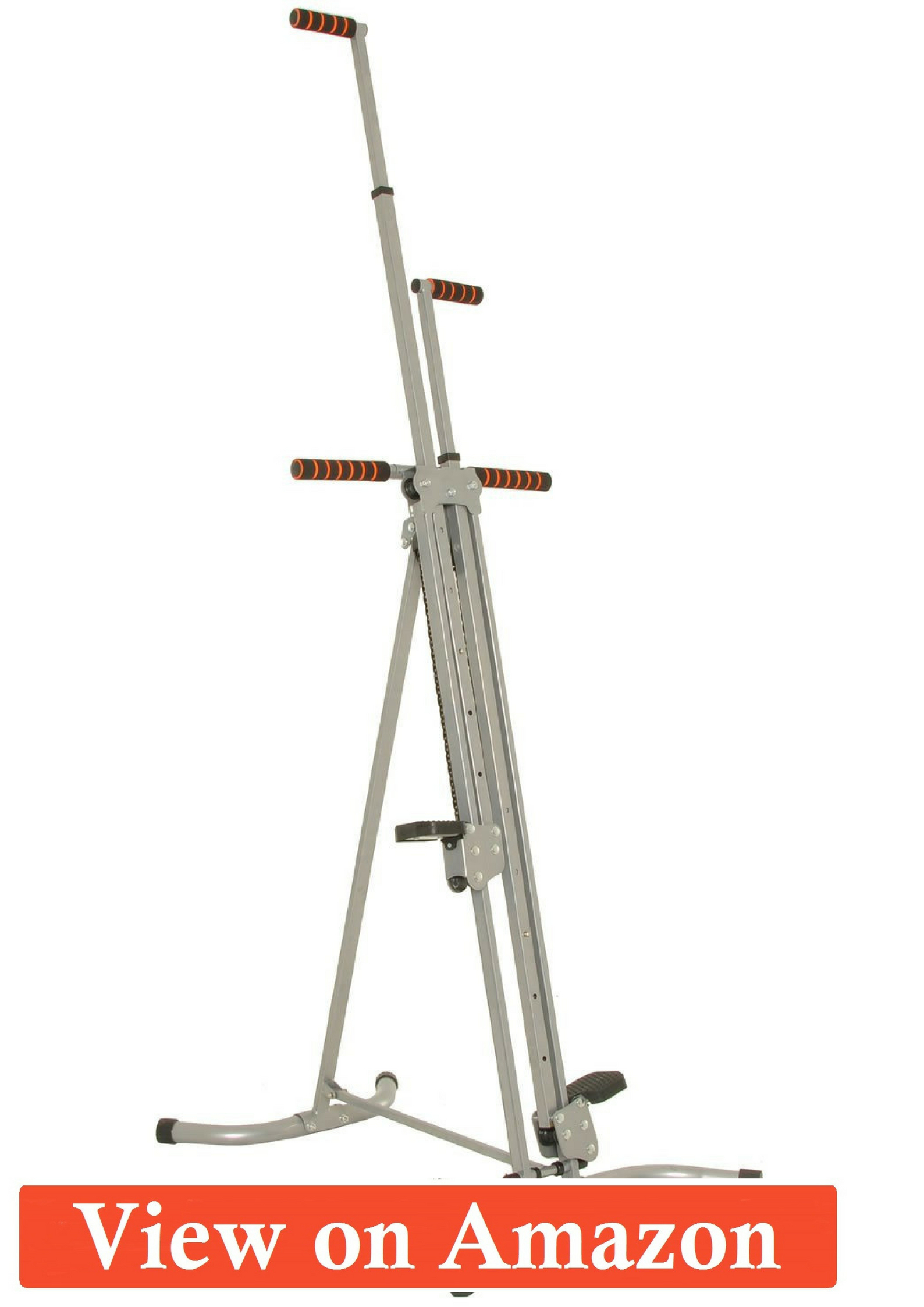 Another release from the Conquer series of vertical climbers, this machine is noteworthy for its exceptionally slim design, durable steel frame, and ergonomically designed stationary and adjustable handles. Price-wise, it's in the mid-range of the items on our list, offering a lifetime of usability at great value. Known for being exceptionally quiet, this vertical climber would be ideal for those living in an apartment complex where noise must be kept to a minimum, those who prefer to watch TV or listen to music during their exercise routine, or for parents who can only fit in workout time while the baby is asleep.
It's also worth noting that the Conquer Vertical Climber 2.0 has undergone some design upgrades, making it more durable and user-friendly that the previous model. While the 1.0 version and other climbers use a cable pulley mechanism that can wear out over time, Conquer uses a chain-and-sprocket design that easily stands up to frequent use.
Pros
Fast and easy assembly that anyone can manage.

Improved construction and durability over previous models make for a machine with a longer life expectancy.

Smooth, quiet use for those who need to be mindful of noise in their living space.

Fully adjustable to accommodate people of all heights and weights.

Offers a high-intensity, low-impact workout that burns fat as it builds and tones muscle.
Cons
Some users looking to build muscle in their legs have found that the resistance offered by their own body weight was insufficient, and that adding additional weight to their workout was beneficial to them.

Although most have found the machine to be very quiet during use, some users have reported metallic rattling during their workout.

Some have found the printed instructions enclosed with the machine to be unclear and recommend using instructional videos to aid the assembly process instead.
Why You Need a Vertical Climber
Readers more accustomed to traditional workout regimens and equipment might be unconvinced about the value of taking home a vertical climber, and even those who recognize the value of the unique exercise experience they offer may wonder why they stand to benefit from owning one at home. Regardless of which category you fall into, there's a multitude of reasons why you stand to benefit from taking home your own vertical climbing machine.
First and foremost, it's a machine that offers a total-body workout unparalleled by most other gym equipment. Not only does it let you do aerobic/anaerobic exercise, cardio, weight loss/fat-burning, and muscle-toning exercise, it allows you to do it without having to wrangle with an assortment of interchangeable parts. Most fitness enthusiasts with home gyms are familiar with complicated weight-lifting machines that require significant assembly and disassembly between uses, or machines like treadmills and stair-steppers that serve one purpose and one purpose only. In contrast, this machine allows you to exercise in multiple ways at once, without needing to perform any modifications to the machine.
Equally important to consider is the value of maintaining a workout machine in your own home. Consider the number of gym memberships purchased annually, often in tandem with New Year's resolutions to get more fit, and then consider how many of them are abandoned soon after. Between work, parenting, and other day-to-day responsibilities, it's all too easy to find yourself with little to no time left to commute to the gym. Owning a home workout system, particularly one as easy to set up and use as a vertical climber, takes away your excuse not to adhere to a regular workout regimen.
Benefits of Using a Vertical Climber
Unlike other exercise machines, many of which only target one specific area or one collection of areas, vertical climbers are unique for the total-body benefits they offer. Because they're designed to imitate the motions the body performs while rock climbing, the vertical climbing machine gives the user a uniquely complete workout. On the surface it may seem deceptively simple and low-intensity since it uses your body weight for resistance, but as many users have reported the intensity of the workout it offers will leave you amazed. Most inexperienced users find they can only use the machine for a couple of minutes at a time to start out, and that they must build up their workout gradually over time as their endurance increases. This is because the demands it places on your body — aerobically and in terms of muscle strength — is comparable to the demands of traditional outdoor climbing. It requires sufficient strength to support your own weight, increases your heart rate, and forces you to breathe harder and faster with less activity than running on a treadmill or using an elliptical. In short, more of your body is being exercised in less time and through less activity than with other workout machines.
Because it's low-intensity, it also accomplishes all of the above with minimal strain and impact on your joints. Using your body weight for resistance means that it helps to build and strengthen your leg muscles without putting undue additional strain on your joints, making it an ideal choice for those already prone to joint pain, seniors looking to stay in shape, and those who are new to fitness. Plus, many of these machines come with variable tension settings, so more experienced users or those interested in more of a challenge can easily increase the demand on their bodies for better results. Some users also like to combine the increased tension settings with additional weight (like wrist or ankle weights) to further increase resistance and maximize their gains. Vertical climbers are also uniquely valuable for indoor climbing enthusiasts. It's a simple, affordable way to keep your body fit and toned between climbing sessions, so you can always be in shape and ready to tackle that rock wall.
Another important feature to consider is storage and user-friendliness. Some home gym systems simply aren't practical for anybody but homeowners with room to spare. Vertical climbers, on the other hand, are lightweight and collapsible enough that they can be used by apartment-dwellers without taking up valuable space. The relative lack of moving parts means they're also quiet enough that they won't disturb roommates or neighbors during use. These are just a handful of the benefits of buying your own vertical climber.
What to Consider When Buying a Vertical Climber
There are a lot of variables to take into account when considering which vertical climber to buy. Some obvious ones include price points, ease of assembly, weight, storage, and how customizable the machine is. Few machines have fixed settings which allow for more limited workouts while others have a variety of settings to choose from, giving users the freedom to adapt their workout to their specific needs, and even to increase the resistance over time to increase their endurance. Some come equipped with digital displays that let you track calories burned, steps taken, or other vital statistics. If you're somebody who's motivated by tracking your own progress while you work out, it's important to keep this in mind before making your final selection.
Users with limited living space will want to ensure that the machine they choose is fully collapsible and easy to store under a bed or in a closet. With that in mind, each of the five machines we've selected to review can be fully folded up and stored in a closet or under the bed for optimal space-saving value. Heavier users will want to be sure that the machine they select is constructed to safely support their weight, and those with joint problems or chronic pain will find value in adjustable setting machines that allow them to design lower-impact workouts.
Keep in mind that no single vertical climbing machine will be the perfect choice for every user, and keep your own exercise needs and preferences in mind as you read. The information we provide here is meant to help you make a fully informed decision, but the bottom line is that your fitness preferences are paramount when selecting a vertical climber.